The Origins Of T-Bag
Back to: Home page | Making Of T-Bag Index
Want to know how T-Bag was bought to the small screen? Read on to find out how this programme came to life.
The very beginning...
T-Bag sprung into life when the head of Children's television at Thames Television, Majorie Sigley, wanted an educational series to teach children about words and letters of the alphabet.
The first show of this 'educational' series turned out to be 'Words, Words, Words' which was a compilation of sketches featuring songs and rhymes. Many writers had been asked for contributions to fill the series as material was running rather thin on the ground. Both Lee Pressman and Grant Cathro had been asked for contributions; because of this the two met and great things were to come from these two young writers. Below are some images of Words, Words, Words taken from the CiTV Birthday Bash.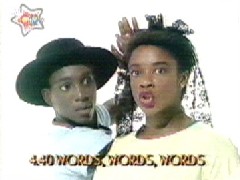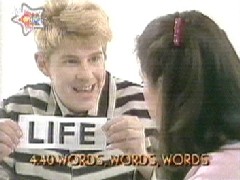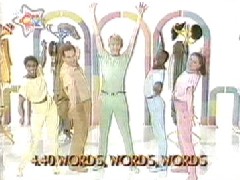 A Familiar face in the centre image?
The Concept...
After the debacle that was 'Words, words, words' Majorie Sigley wanted Lee to come up with an idea for a series about the letters of the alphabet, when he came up with the idea of a little girl travelling through lands of a board game featuring the many letters of the alphabet (sounding familiar already). When Majorie gave Lee the green light for the series, he asked Grant if he would like to co-write the series, and the writing duo was formed which would produce many other children's TV series such as Spatz and Mike and Angelo.
In the board game the little girl would meet many characters relating to the square she was travelling through. In the T-Square was going to be...T-Bag! She was originally going to be paired up with a puppet called 'Alfie Bat' before she was finally paired up with her 'loyal' T-Caddy, T-Shirt.
The partnership between Elizabeth Estensen (T-Bag) and John Hasler (T-Shirt) was in evidence from the first series and just carried through with many hilarious situations to come.
With the little girl (now Debbie), the evil witch T-Bag and her T-Caddy, T-Shirt, the programme was born.
The Fruitition of their labours...
T-Bag came together and was first broadcast on Childrens ITV on Thursday 4th April 1985 in the UK. Because of the success of the first and latter series and the growing viewing figures and popularity of the show Lee and Grant would write 94 episodes of T-Bag (9 ten-episode series and 4 Christmas specials) covering seven years (1985-1992) and almost a tenth series that would sadly never materialise.