Georgina Hale Biography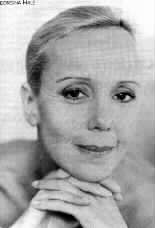 Georgina Hale
Back to: Home page | Cast Biographies Index
Welcome to the Georgina Hale Biography page.
Jump to:
General Info
Biography
Links
Notable Credits
<!_________________________________________________________________________GENERAL INFO___________________________>
FULL NAME: GEORGINA HALE
CHARACTER/S IN T-BAG:
Tabatha Bag
Kit Bag (T-Bag And The Sunstones Of Montezuma Eps1 & 10)

EPISODES APPEARED IN:
42 Episodes (4 Series & 2 Christmas Specials)

Mahler (1975)
BIRTH DATE: 4th August 1943
BIRTH PLACE: Ilford, Essex, London, UK
STAR SIGN: Leo
<!_________________________________________________________________________BIOGRAPHY___________________________>
Born in Essex in 1943 Georgina Hale started her acting career on TV in a guest role in The Flying Swan (1965) and over the following few years she made appearances in many other TV dramas including Public Eye (1966); The Wednesday Play (1966); Drama '67 (1967); Half Hour Story (1967); ITV Playhouse (1968); Plays Of Today (1969) and Special Branch (1970).
Throughout this early period in her career Georgina became an accomplished stage actress, with major roles at the Playhouse, Liverpool in 1967, taking the eponymous role of Gigi, and as Juliet in Shakespeare's Romeo and Juliet. In 1975 she again played the leading role, this time of Liza Doolittle in Pygmalion at the Thorndike Theatre in Leatherhead. Georgina then gave a much acclaimed portrayal of Nina in Chekhov's The Seagull at the Playhouse, Derby in 1976, which would mark her West End debut at the Duke of York's Theatre in August 1976.
In 1971, at the age of 26, Georgina appeared in her first recurring role in the TV series Budgie alongside Adam Faith, in four episodes over the two series.
Georgina then started appearing in numerous films by the controversial film director Ken Russell. Her first being The Devils (1971), followed by Mahler (1975) and cameos in Lisztomania (1975) and Valentino (1977). Georgina won the BAFTA for Outstanding new Actress for her role as Alma Mahler for the film Mahler, where she starred opposite Robert Powell (who she would later work with again in the BBC comedy The Detectives (1993)).
Other film appearances include the Twiggy musical The Boyfriend (1971), where she starred alongside Glenda Jackson (who would later appear in T-Bag's Christmas Ding-Dong); Butley (1976) and Sweeney 2 (1978), the spin-off movie of the TV series.
Georgina appeared in Simon Gray's stage plays which were filmed and shown on TV for the BBC Play for Today and BBC Play of the Month such as Only Make Believe (1973), Electra (1974), Plaintiff's And Defendants (1975), Two Sundays (1975) and The Seagull (1978).
Throughout the late 1970's Georgina continued to work in the theatre in the The Tribades (in Hampstead during May 1978); Boo Hoo (Open Space during July 1978); and in The Last of the Red Hot Lovers (Royal Exchange, Manchester, April 1979 and the Criterion Theatre in November 1979). At the start of the 1980's Georgina continued her work on the stage in Nell Dunn's play, Steaming, at the Comedy Theatre in London, which she was nominated for the 1981 Best Comedy Performance Olivier award. In April 1982 Georgina would star opposite Glenda Jackson in Robert David MacDonald's play, Summit Conference at the Lyric Theatre, for Glasgow's Citizens' Theatre.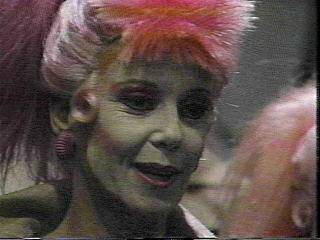 Doctor Who as Daisy K (1988)
As well as the many film and stage roles Georgina has made many guest roles in many famous TV series such as Upstairs Downstairs (1975); The Lady Killers (1980); as Daisy K in Doctor Who: The Happiness Patrol (1988); One Foot In The Grave (1990) and with Dawn French in Murder Most Horrid (1994).
T. Bag (1990)
In 1990 Georgina took over the role of T-Bag, appearing as Tallulah Bag's madcap sister Tabatha Bag. Her performance of Tabatha Bag has been described by one of the writers of T-Bag, Grant Cathro, as a cross between Harpo Marx and a Dalek! Georgina has a unique way of portraying her characters and Tabatha Bag is a great example of this - a cult character full of unpredictability with a flare for the delivery of funny lines, her unique voice, talent and body movement add to the eccentricity of the character. Georgina continued as T-Bag for four series and two Christmas specials before Thames Television lost its license in 1992.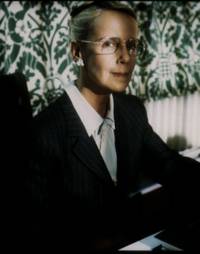 Preaching To The Perverted (1997)
After appearing in T-Bag Georgina has been in many films such as Preaching To The Perverted (1997) and TV programmes such as BBC's Casualty (2000); Trial & Retribution (2002) and ITV's The Bill (2002) as the 'Tabatha Bag-esque' Marilyn Costello mirroring Tabatha Bag's evil intent perfectly.
Georgina Hale also continued her work in the threatre many of them for the Glasgow Citizens Company such as Mourning Becomes Electra (1991); The Milk Train Doesn't Stop Here Anymore (1994); Britannicus (2002) and The Cherry Orchard (2002). Other plays include Life Support (1997, Aldwych, London); The Guardsman (2000, On Tour) and Semi-Monde (2001, Lyric Theatre, London).

Happy Birthday
(2003)
Georgina Hale celebrated her 60th Birthday on the 4th August 2003. Her birthday was in the Daily Mirror newspaper in the Happy Birthday section (see image scan right).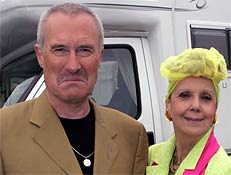 Emmerdale (2006)
Georgina has continued working since the age of sixty, appearing in guest roles in Murder Investigation Team (2005), the film Mrs. Palfrey at the Claremont (2005) and The Commander: The Devil You Know (2007). Georgina also appeared in several episodes of the Yorkshire soap Emmerdale in the summer of 2006, although her character of Beryl Chugspoke never had any scenes alongside Elizabeth Estensen.
In 2007 Georgina attended the T-Bag reunion DVD filming by Fantom Films and also attended the cult TV festival to promote the DVD launch later in 2007.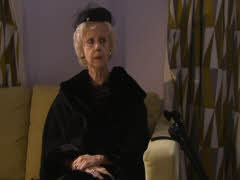 Hollyoaks (2011)
Georgina has also been involved in charity work in other countries.
Following her appearance in Emmerdale Georgina appeared in Channel 4's long-running soap, Hollyoaks, in September 2010 Georgina appeared playing the battleaxe mother Blanche. Georgina appeared in five episodes and then in February 2011 reprised her role as Blanche and appeared in a further two episodes.
Georgina appeared as Doreen in the Studio Canal film Cockneys vs Zombies (2012) and made a guest appearance in the ITV daytime drama Crime Stories (2012).
<!_________________________________________________________________________LINKS___________________________>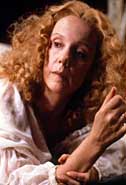 Count of the Solar (1991)
There is a board dedicated to Georgina Hale on The T-Bag Forum!
Doctor Who WAV Archive Downloads (Daisy K Voice Sample) This page has a voice sample of Georgina Hale (as Daisy K).
Doctor Who Images Thanks for the Image of Georgina Hale as Daisy K
Ken Russell Classic Films
The Unofficial Glasgow Citizens Theatre Website Georgina Hale Interview
The following information is from these following resources:
Preaching To The Perverted Georgina Hale Biography
Georgina Hale (The Internet Movie Database)
Georgina Hale (TV.com)
Georgina Hale (TVRage.com)
Georgina Hale (Wikipedia)
The Actors Compendium (Aveleyman.com)
The T-Room
And my own knowledge.
If you have any images of Georgina Hale or any further information on appearances (if you can fill in the ? details below) etc or if you would like to remove these images here (if they are yours) please e-mail me to tell me.
<!_________________________________________________________________________APPEARANCES___________________________>
1960's
1965
The Flying Swan
TV | Guest cast (1 episode)
(11.09.1965)
As: Amanda Hurst
Open Day (#1.24, 11/09/1965)



No Hiding Place
TV Series | Guest cast (1 episode)
(10.11.1965)
As: Girl in café
Hi-Jack (#8.2, 10/11/1965)



1966
The Wednesday Play: Way Off Beat
TV | Main cast (1 episode)
(08.06.1966)
As: Jill
Way Off Beat (#1.64, 08/06/1966)



Public Eye
TV | Guest cast (1 episode)
(06.08.1966)
As: Hostess
You're Not Cinderella, Are You? (#2.6, 06/08/1966)



1967
Drama '67
TV | Main cast (1 episode)
(14.01.1967)
As: Ruth
Cross My Heart and Hope She'll Die (#6.7, 14/01/1967)



No Hiding Place
TV Series | Guest cast (1 episode)
(04.05.1967)
As: Sarah Cairns
Decree Absolute (#10.8, 04/05/1967)



Half Hour Story
TV | Main cast (1 episode)
(12.07.1967)
As: Julie
Which of These Two Ladies Is He Married To? (#1.9, 12/07/1967)



1968
Public Eye
TV | Guest cast (1 episode)
(27.01.1968)
As: Liz Chambers
But What Good Will Truth Do? (#3.2, 27/01/1968)



Detective
TV | Guest cast (1 episode)
(17.05.1968)
As: Caroline Emmett
The Deadly Climate (#2.1, 17/05/1968)



Virgin Of The Secret Service
TV | Guest cast (1 episode)
(23.05.1968)
As: Shang Si
Across the Silver Pass of Gusri Song (#1.9, 23/05/1968)



ITV Playhouse
TV | Guest cast (1 episode)
(23.12.1968)
As: Nanine
Camille 68 (#2.19, 23/12/1968)



1969
W. Somerset Maugham: The Back of Beyond
TV | Main cast (1 episode)
(10.06.1969)
As: Enid Clarke
The Back of Beyond (#1.1, 10/06/1969)



Plays Of Today: Men Of Iron
TV | Main cast (1 episode)
(02.10.1969)
As: ?
Men Of Iron (#1.5, 02/10/1969)



1970's
1970
Special Branch
TV Series | Guest cast (1 episode)
(7.10.1970)
As: Lisa
Love From Doris (#2.9, 07/10/1970)



The Main Chance
TV Series | Guest cast (1 episode)
(26.10.1970)
As: Miss Sheila Smith
The Best Legal System in the World (#2.7, 26/10/1970)



Menace
TV Series | Guest cast (1 episode)
(8.12.1970)
As: The Girl
Who's Been Sleeping In My Bed? (#1.11, 08/12/1970)



1971
The Boyfriend
Film | Guest cast
(1971)
As: Fay


Budgie
TV Series | Main cast (4 episodes)
(1971-1972)
As: Jean Bird
Out (#1.1, 09/04/1971) ... (uncredited)
Brains (#1.3, 23/04/1971)
Dreaming of Thee (#2.1, 21/04/1972)
And the Lord Taketh Away (#2.2, 28/04/1972)



The Devils
Film | Main cast
(??.07.1971)
As: Philippe


1972
Eagle In A Cage
Film | Main cast
(1972)
As: Betty Balcombe


The Strauss Family
TV Series | Guest cast (1 episode)
(19.12.1972)
As: Lili Dietrich
Lili (#1.7, 19/12/1972)



1973
Play for Today: Only Make Believe
TV Play | Main cast (1 episode)
(12.02.1973)
As: Sandra George
Only Make Believe (#3.16, 12/02/1973)



A.D.A.M.
TV | Main cast
(08.04.1973)
As: Jean Empson


The Love Ban (Anyone for Sex?)
Film | Main cast
(1973)
As: Joyce


1974
The Protectors
TV Series | Guest cast (1 episode)
(15.2.1974)
As: Girl Passenger
Shadbolt (#2.22, 15/02/1974)



BBC Play of the Month: Electra
TV Play | Main cast (1 episode)
(24.10.1974)
As: Chrysothemis, Electra's sister
Electra (#10.2, 24/10/1974)



Occupations
TV | Guest cast
(01.09.1974)
As: Polya


Notorious Woman
TV Series | Guest cast (2 episodes)
(08.12.1974 - 15.12.1974)
As: Solange Dudevant-Sand
Sonata (#1.6, 08/12/1974)
Resolution (#1.7, 15/12/1974)



Twiggs
TV Series | Appearance (1 episode)
(03.10.1974)
As: Herself
Untitled Episode (#1.3, 03/10/1974)



Affairs of the Heart
TV Series | Guest cast (1 episode)
(27.10.1974)
As: Lola Skinner
Adela (#1.5, 27/10/1974)



1975
Mahler
Film | Main cast
(1975)
As: Alma Mahler


Play for Today: Plaintiffs & Defendants
TV Play | Main cast (1 episode)
(14.10.1975)
As: Joanna
Plaintiffs & Defendants (#6.1, 14/10/1975)



Play for Today: Two Sundays
TV Play | Main cast (1 episode)
(21.10.1975)
As: Hilary
Two Sundays (#6.2, 21/10/1975)



Lisztomania
Film | Cameo appearance
(13.11.1975)
As: uncredited


Play for Today: Children of the Sun
TV Play | Main cast (1 episode)
(18.11.1975)
As: Fran
Children of the Sun (#6.6, 18/11/1975)



Upstairs Downstairs
TV Series | Guest cast (1 episode)
(12.10.1975)
As: Violet Marshall
An Old Flame (#5.6, 12/10/1975)



Affairs of the Heart
TV Series | Guest cast (1 episode)
(06.04.1975)
As: Daisy Miller
Daisy (#2.4, 06/04/1975)



1976
East Lynne
TV Film | Main cast
(1976)
As: Afy Halljohn


Voyage Of The Damned
Film | Main cast
(1976)
As: Lottie Schulman


Nouvelle De Henry James
Mini | Main cast (1 episode)
(27.03.1976)
As: Beatrice Ambient
L'Auteur de Beltraffio (#1.3, 27/03/1976)



Yes Honestly
TV Series | Guest cast (2 episodes)
(19.03.1976 & 03.02.1977)
As: Georgina
Three's None (#1.11, 19/03/1976)
We've Never Sailed the Amazon
We've Never Reached Brazil (#2.5, 03/02/1977)



Butley
Film | Main cast
(?.4.1976)
As: Carol Heasman


1977
Jubilee
TV Series | Guest cast (1 episode)
(03.02.1977)
As: Alice Moore
Street Party (#1.2, 03/02/1977)



ITV Sunday Night Drama: The Late Wife
TV Series | Guest cast (1 episode)
(28.05.1977)
As: ?
The Late Wife (#2.1, 28/05/1977)



Valentino
Film | Guest cast
(04.10.1977)
As: Uncredited


1978
BBC Play of the Month: The Seagull
TV Play | Main cast (1 episode)
(05.02.1978)
As: Masha
The Seagull (#13.4, 05/02/1978)



Sweeney 2
Film (of TV Series) | Main cast
(??.04.1978)
As: Switchboard Girl


1979
The World Is Full Of Married Men
Film | Main cast
(??.06.1979)
As: Lois Grossman


Crown Court
TV Series | Guest cast (1 episode)
(27.12.1979)
As: Mrs. Marcia Nichols
Caroline: Part 1 (#8.58, 27/12/1979)



1980's
1980
Give Us a Clue
TV Game Show | Appearance (1 episode)
(28.01.1980)
As: Herself
Untitled Episode (#?.?, 28/01/1980)



The Watcher In The Woods
Film | Guest cast
(1980)
As: Young Mrs. Aylwood


McVicar
Film | Main cast
(??.08.1980)
As: Kate


Lady Killers
TV | Guest cast (1 episode)
(03.08.1980)
As: Ruth Ellis
Lucky, Lucky Thirteen (#2.6, 03/08/1980)



Minder
TV Series | Guest cast (1 episode)
(16.10.1980)
As: Renee
The Beer Hunter (#2.6, 16/10/1980)



Hammer House Of Horror
TV Series | Guest cast (1 episode)
(6.12.1980)
As: Stella
The Mark Of Satan (#1.13, 06/12/1980)



1981
The French Lieutenant's Woman
Film | Guest cast
(??.08.1981)
As: Actress at Wrap Party
… (Uncredited)


1987
Boon
TV Series | Guest cast (1 episode)
(10.11.1987)
As: Alison (Harry's Ex-Wife)
A Fistful of Pesetas (#2.10, 10/11/1987)



Castaway
Film | Guest cast
(1987)
As: Sister Saint Margaret


1988
Gems
TV Series | Main cast (36 episodes)
(06.01.1988 - 01.04.1988)
As: Lynne
Untitled Episode (#3.4, 13/01/1988)
Untitled Episode (#3.5, 14/01/1988)
Untitled Episode (#3.6, 15/01/1988)
Untitled Episode (#3.7, 20/01/1988)
Untitled Episode (#3.8, 21/01/1988)
Untitled Episode (#3.9, 22/01/1988)
Untitled Episode (#3.10, 27/01/1988)
Untitled Episode (#3.11, 28/01/1988)
Untitled Episode (#3.12, 29/01/1988)
Untitled Episode (#3.13, 03/02/1988)
Untitled Episode (#3.14, 04/02/1988)
Untitled Episode (#3.15, 05/02/1988)
Untitled Episode (#3.16, 10/02/1988)
Untitled Episode (#3.17, 11/02/1988)
Untitled Episode (#3.18, 12/02/1988)
Untitled Episode (#3.19, 17/02/1988)
Untitled Episode (#3.20, 18/02/1988)
Untitled Episode (#3.21, 19/02/1988)
Untitled Episode (#3.22, 24/02/1988)
Untitled Episode (#3.23, 25/02/1988)
Untitled Episode (#3.24, 26/02/1988)
Untitled Episode (#3.25, 02/03/1988)
Untitled Episode (#3.26, 03/03/1988)
Untitled Episode (#3.27, 04/03/1988)
Untitled Episode (#3.28, 09/03/1988)
Untitled Episode (#3.29, 10/03/1988)
Untitled Episode (#3.30, 11/03/1988)
Untitled Episode (#3.31, 16/03/1988)
Untitled Episode (#3.32, 17/03/1988)
Untitled Episode (#3.33, 18/03/1988)
Untitled Episode (#3.34, 23/03/1988)
Untitled Episode (#3.35, 24/03/1988)
Untitled Episode (#3.36, 25/03/1988)
Untitled Episode (#3.37, 30/03/1988)
Untitled Episode (#3.38, 31/03/1988)
Untitled Episode (#3.39, 01/04/1988)



Doctor Who
TV Series | Guest cast (3 episodes)
(2.11.1988, 9.11.1988 & 16.11.1988)
As: Daisy K
The Happiness Patrol: Part 1 (#25.5, 02/11/1988)
The Happiness Patrol: Part 2 (#25.6, 09/11/1988)
The Happiness Patrol: Part 3 (#25.7, 16/11/1988)



Dogplant
Sci-Fi Short | Main cast
(??.03.1988)
As: Professor


South of the Border
TV Series | Guest cast (1 episode)
(08.11.1988)
As: Joan Hartley
Untitled Episode (#1.3, 08/11/1988)



1989
Murder On The Moon
TV | Main cast
(1989)
As: Allison Quinney


1990's
1990
T-Bag And The Pearls Of Wisdom
Kids TV Series | Main cast (10 episodes)
(2.1.1990-6.3.1990)
As: T-Bag (Tabatha)
Any Old Port (#1.1, 02/01/1990)
High Noon (#1.2, 09/01/1990)
Elementary, My Dear What-Not (#1.3, 16/01/1990)
Grimble and Squiffy (#1.4, 23/01/1990)
Mutiny! (#1.5, 30/01/1990)
The Ghost of Castle McCarr (#1.6, 06/02/1990)
Tut Tut (#1.7, 13/02/1990)
Cedric Sackbutt's Search For A Song (#1.8, 20/02/1990)
Play It Again, Sal (#1.9, 27/02/1990)
The Pearls Of Wisdom (#1.10, 06/03/1990)



One Foot In The Grave
TV Series | Guest cast (1 episode)
(8.11.1990)
As: April Bluett
Love & Death (#2.5, 08/11/1990)



T-Bag's Christmas Ding-Dong
Kids TV Special | Main cast
(26.12.1990)
As: T-Bag (Tabatha)


1991
T-Bag And The Rings Of Olympus
Kids TV Series | Main cast (10 episodes)
(7.1.1991-11.3.1991)
As: T-Bag (Tabatha)
The Rings Of Olympus (#1.1, 07/01/1991)
Bandits (#1.2, 14/01/1991)
The Yukon (#1.3, 21/01/1991)
Rum Barbara (#1.4, 28/01/1991)
Vampires (#1.5, 04/02/1991)
Exit With A Puff (#1.6, 11/02/1991)
Rats (#1.7, 18/02/1991)
Leonardo (#1.8, 25/02/1991)
Torture (#1.9, 03/03/1991)
Return To Olympus (#1.10, 11/03/1991)



Magic
TV Series | Main cast (6 episodes)
(1991)
As: Andrea Watson
Unknown episodes


T-Bag's Christmas Turkey
Kids TV Special | Main cast
(26.12.1991)
As: T-Bag (Tabatha)


1992
T-Bag And The Sunstones Of Montezuma
Kids TV Series | Main cast (10 episodes)
(6.1.1992-9.3.1992)
As: T-Bag (Tabatha)
In The Footsteps Of Kit Bag (#1.1, 06/01/1992)
Gussie and Twittering (#1.2, 13/01/1992)
Wilma Tell (#1.3, 20/01/1992)
Gone Fishing (#1.4, 27/01/1992)
Hippies (#1.5, 03/02/1992)
Ra Ra Rasputin (#1.6, 10/02/1992)
One Million Years B.C. (#1.7, 17/02/1992)
Napoleon and Josephine (#1.8, 24/02/1992)
Y-Fronts (#1.9, 02/03/1992)
Montezuma's Revenge (#1.10, 09/03/1992)



Screen Two: The Count Of Solar
TV Drama | Main cast (1 episode)
(02.02.1992)
As: Countess Solar
The Count Of Solar (#1.3, 02/02/1992)



Take Off With T-Bag
Kids TV Series | Main cast (10 episodes)
(8.9-1992-17.11.1992)
As: T-Bag (Tabatha)
Many Happy Returns (#1.1, 08/09/1992)
Theif Of Baghdad (#1.2, 15/09/1992)
Bagsy Malone (#1.3, 22/09/1992)
Curse Of The Mummy (#1.4, 06/10/1992)
Doctor Strangebag (#1.5, 13/10/1992)
Antony and Cleopatra (#1.6, 20/10/1992)
Phantom Of The Opera (#1.7, 27/10/1992)
Bin Bag (#1.8, 03/11/1992)
The Red Shoes (#1.9, 10/11/1992)
Shangri-La (#1.10, 17/11/1992)



Performance
TV Series | Guest cast (1 episode)
(5.12.1992)
As: Moya Lexington
After the Dance (#2.4, 05/12/1992)



1993
The Detectives
TV Series | Guest cast (1 episode)
(3.3.1993)
As: Irene Mazola
Strangers in Paradise (#1.6, 03/03/1993)



1994
The Honeymoon's Over
TV | Main cast
(30.1.1994)
As: Norma


Murder Most Horrid
TV Series | Guest cast (1 episode)
(17.3.1994)
As: Lady Jamieson
A Severe Case Of Death (#2.3, 17/03/1994)



Beyond Bedlam
Film | Main cast
(22.4.1994)
As: Sister Romulus


The Bill
TV Series | Guest cast (2 episodes)
(23.09.1994 & 30.09.1994)
As: Julie Stone
Living Legend (#10.114, 23/09/1994)
Inquest (#10.117, 30/09/1994)



1995
Crown Prosecutor
TV Series | Guest cast (1 episode)
(23.03.1995)
As: Maureen Sherman
Untitled Episode (#1.5, 23/03/1995)



Treasure Island
TV Film | Main cast
(24.12.1995)
As: Mum


1996
Jackson: My Life…Your Fault
Short Film | Main cast
(1996)
As: Josephine


1997
Preaching To The Perverted
Film | Main cast
(1997)
As: Miss Wilderspin


1998
Gamal Abd El Naser
Film | Main cast
(1998)
As: Lady Eden


A Rather English Marriage
TV | Main cast
(30.12.1998)
As: Sabrina's Maid


2000's
2000
Casualty
TV Series | Guest cast (2 episodes)
(14.10.2000 & 15.10.2000)
As: Janet Henbury
Choked: Part 1 (#15.5, 14/10/2000)
Choked: Part 2 (#15.6, 15/10/2000)



2002
AKA
Film | Main cast
(2002)
As: Elizabeth Of Lithuania


Hell on Earth
TV Movie documentary | Appearance (1 episode)
(2002)
As: Herself


Trial & Retribution
TV Series | Guest cast (1 episode)
(19.06.2002)
As: Tammy Delany
Untitled Episode (#5.1, 19/06/2002)



The Bill
TV Series | Guest cast (3 episodes)
(18 & 19.12.2002 & 23.12.2002)
As: Marilyn Costello
Untitled Episode (#18.83, 18/12/2002)
Untitled Episode (#18.84, 19/12/2002)
Untitled Episode (#18.85, 23/12/2002)



2003
Photo Finish
Film | Main cast
(2003)
As: ?


2005
Murder Investigation Team (M.I.T)
TV Series | Guest cast (1 episode)
(25.7.2005)
As: Woman
Untitled Episode (#2.3, 25/07/2005)



Mrs. Palfrey at the Claremont
Film | Main cast
(2005)
As: Mrs Burton


2006
Emmerdale
TV Soap | Guest cast (Multiple episodes)
(09.06.2006 onwards)
As: Beryl Chugspoke
Untitled Episode (#1.4384, 09/06/2006)
Plus more ongoing episodes



Budgie's Birds
Video | Appearance
(11.09.2006)
As: Herself


2007
The Commander: The Devil You Know
TV Series | Guest cast (1 episode)
(08.07.2007)
As: Mrs Littlewood


T. Bag The Reunion Documentary
DVD Documentary | Appearance
(17.09.2007)
As: Herself


2010's
2010
Hollyoaks
TV Soap | Guest cast (7 episodes)
(20.09.2010 - 24.09.2010
02.02.2011 - 03.02.2011)
As: Blanche Longford
Untitled Episode (#1.2911, 20/09/2010)
Untitled Episode (#1.2912, 21/09/2010)
Untitled Episode (#1.2913, 22/09/2010)
Untitled Episode (#1.2914, 23/09/2010)
Untitled Episode (#1.2915, 24/09/2010)
Untitled Episode (#1.3008, 02/02/2011)
Untitled Episode (#1.3009, 03/02/2011)



2012
Cockneys vs Zombies
Film | Main cast
(2012)
As: Doreen


Crime Stories
TV Series | Guest cast (1 episode)
(14.11.2012)
As: Sally Woods
Untitled Episode (#1.3, 14/11/2012)



2015
Angel
Film | Main cast
(2015)
As: Grandma


2016
Holby City
TV Series | Guest cast (1 episode)
(08.03.2016)
As: Serephina Moore
On the Ropes (#1.3, 08/03/2016)