The Great T. Bag Tea Party
Back to: Home page | Making Of T-Bag Index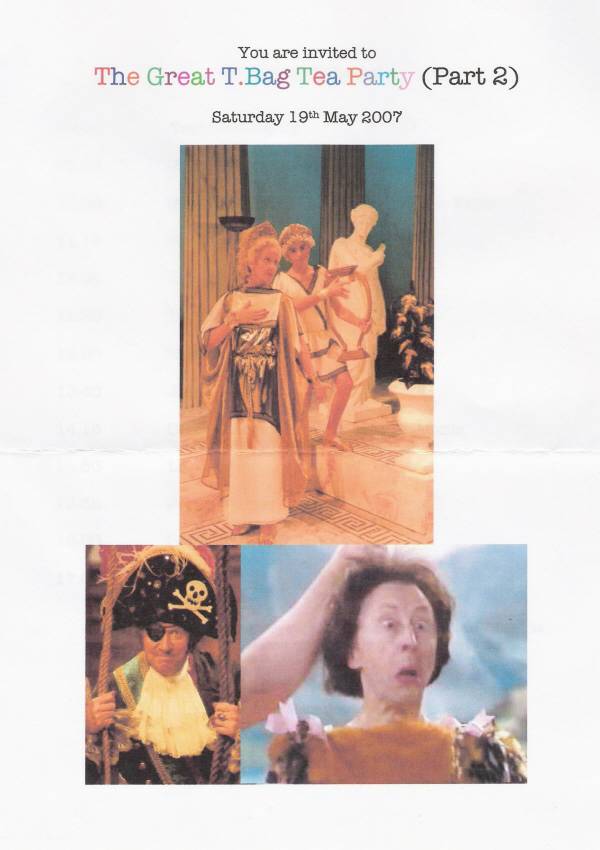 As part of the making of the reunion DVD I was invited down to London for the second day of filming on Saturday 19th May 2007. It was due to be a fantastic day out for any T-Bag fan and I was the lucky one to get to be part of the filming with interviews being filmed with John Hasler, Georgina Hale, Kellie Bright and many more! To say I was excited was putting it mildly.
Some of the interviews had already been filmed on the first day of filming, some of the cast involved were also going to do extra group interviews on the second day so I got to meet most of the cast and crew involved (and have a chat to them whilst drinking cups of tea). Below is my account of the day alongside various photographs and other momentoes of the day, you can click on all the images for a larger image.
Dear Diary...
I arrived reasonably early (it only took an hour on the train to London at a cost of £23.50 and worth every single penny) and was greeted at Kings Cross station by Grant Cathro and we went to the top secret filming location (Lee's house). On the way I had a chance to have a chat to Grant about T-Bag and the day ahead (I was getting rather nervous and incredibly excited by this point), Grant called it 'a day of Fandom' for me and it was certainly going to live up to it. Grant and I talked about who was going to be there for filming and what the last day was like. I mentioned the youtube video clip preview with Liz, Jennie and Kellie. I had wondered what Jennie might have looked like now and seeing the video clip she hasn't changed at all and is very recognisable. When we reached Lee's house Grant told me that this is where most the episodes were written, being in the same street was enough to make me even more excited at the day ahead.
On arrival at Lee's house I was greeted by Lee's wife who welcomed me in and showed me outside where John and Lee were. The film crew and Jeremy (from The T-Room website) were busy preparing for the first filming of the day (Jeremy had brought the costumes for the filming). I got a chance to meet Lee and John and chat to them before filming started. By this point I was not nervous anymore, everyone was really relaxed (although John was getting nervous about his upcoming interview). Lee and John asked what I did for a living so I started talking about my work in a charitable organisation and John mentioned that in a recent poll that was the second most popular job that people would like to do after the number one job of being a yoga teacher! Lee also mentioned that unfortuantely Jennie would not be there today as she had telephoned because she was unwell. After a while Kellie Bright turned up and was ushered into the garden and we had a chance to have a chat between us.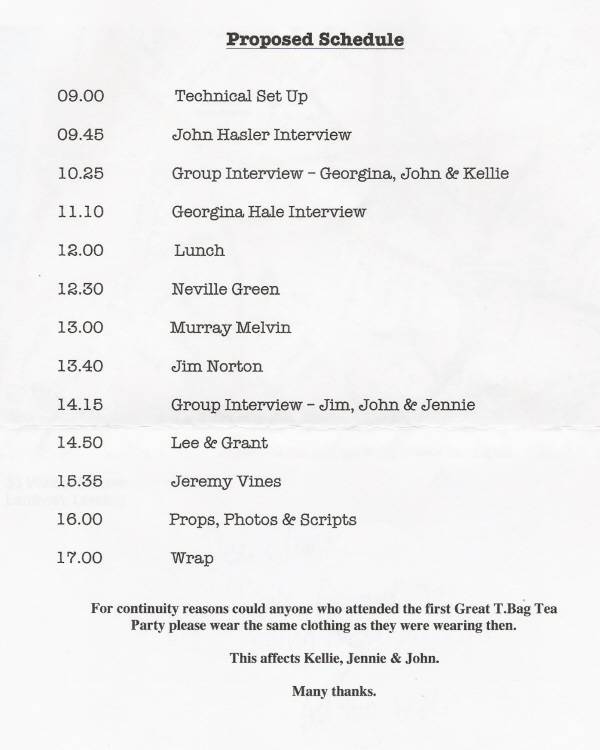 Jim Norton arrived soon after Kellie as he had other commitments later in the day. Jim was the first to be filmed for his interview and soon afterwards he had to leave, he was due to have a group interview with John and Jennie but as Jennie could not be there this was missed out.
Then it was the interview with John (which I sat in on) but just before the filming started Georgina arrived and John went to quickly say hello before coming back for his interview. It was great to hear him reminisce and listen to how much detail he can actually remember (and not having seen any episodes for a few years he seemed to remember most things). Afterwards Kellie came inside with my jacket (which I had left outside when I arrived - she had been wearing my jacket whilst she was outside as it was turning a bit cooler, not everyone can say that Kellie Bright has worn their jacket!)
The group interview with Georgina, John and Kellie was due next, and we took a moment for a photo opportunity at which point Murray Melvin arrived and quickly jumped into shot (sitting infront of me) which is when I met Georgina. The filming of the group interview then started which I sat in on listening to Georgina, John and Kellie remember things as they bounced off each other.
After the group interview Kellie soon left but before she did I got my first photographs of the day with both me and Kellie (I did have to bend my knees slightly to get level), the photo's can be seen below, it was fantastic to see Kellie who had to be at the theatre for her play she is currently starring in called 'Whipping It Up'.
| | |
| --- | --- |
| Photograph of Kellie with me | Giggling Kellie |
Still outside I had a chance to speak to Jeremy (from The T-Room Website) who kindly let me take a few photographs of all the dresses he had brought down for the filming. It was quite strange seeing the pearls dress which was much smaller than I expected and was so heavily detailed, seeing this was one of the many highlights of the day. These images you can see below.
| | |
| --- | --- |
| The Pearls of Wisdom Dress | The Pearls of Wisdom Dress |
The outside wall was decorated in photographs (and the odd prop) from the show so I quickly took snaps of some of these. Lee has kept a 'Nibbles' (from Take Off With T. Bag Episode Eight) in a wooden display case.

Welcome

T. Bag's Christmas Ding-Dong photographs

Take Off With T. Bag
Episode Six Photograph

T. Bag And The Pearls of Wisdom
Tabatha Bag Photograph

Take Off With T. Bag &
Wonders In Letterland Photograph

It's A Hippy Tennis Ball
It's Nibbles!
Whilst almost everyone was still outside I got another photo opportunity with Neville Green, Georgina Hale, Grant Cathro and Murray Melvin which you can see below. Murray Melvin also had his interview and returned to the garden with Georgina welcoming him back to the group jokingly saying that he had been gone for hours.

(from L-R) Neville Green, Georgina Hale,
Grant Cathro, Murray Melvin & Me

(from L-R) Georgina Hale, Grant Cathro
Murray Melvin & Me
Georgina was the next one to be interrogated (oh I mean interviewed) which I also sat in on. Georgina was being filmed next to the famous pearls dress, Georgina does something so funny (which I won't spoil for you all - it will be a great treat when the DVD is released). Georgina fondly spoke of the show, getting the part of Tabatha Bag, her costumes designed by the wonderful Ray Childe and her memories of the show which she vividly remembered the 'Exit With a Puff' Gone With The Wind spoof episode alongside a few others. John also sat in on most of Georgina's interview.
Back outside it was lunch time and (inbetween the eating) I managed to get quite a few more snaps which you can see below. During the lunch break everyone was chatting to each other and Lee mentioned about all the different Bag family members there were and commented on my 'Bag Family Tree' which was an honour, 'painstakingly researched as well' I added.

Georgina and I

John and I

John and I
Neville Green also had his interview whilst I was still eating (Grant makes some of the best sandwiches ever - I feel a possible recipe book in the pipeline!) I managed to get some more photographs and both Georgina and John signed my Pearls of Wisdom video sleeve I had taken. Click on the image below to see it much bigger!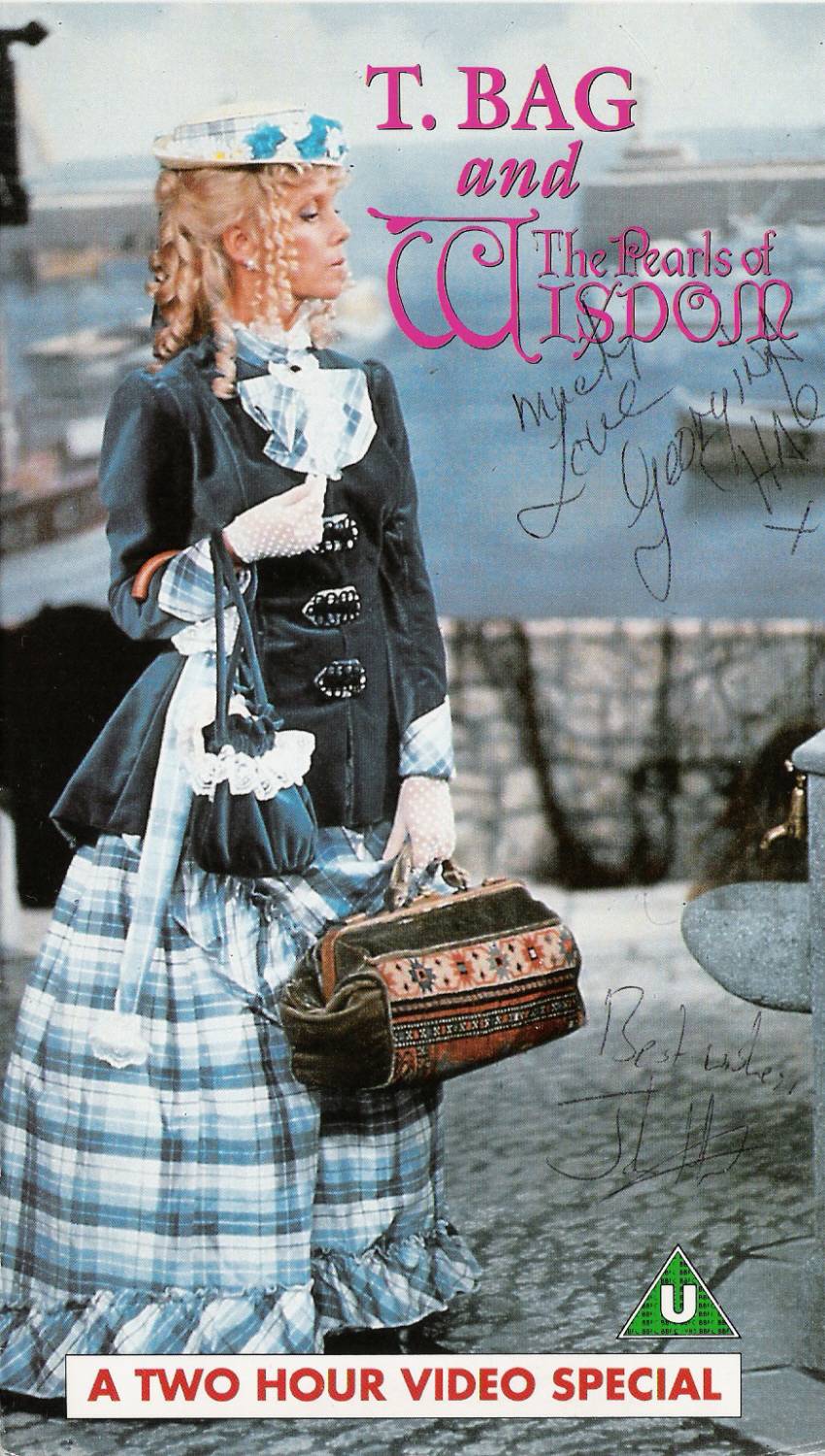 My Pearls of Wisdom Video
Signed by both Georgina and John
Then the time came for both Murray Melvin and Georgina to leave for the day.
Jeremy showed me more of his dresses (including some of his replicas he has been making). He kindly let me take a few photographs of all the dresses he had brought down for the filming. Seeing all the dresses was another fantastic moment. The 'Merry Pippins' jacket from Christmas Cracker is also quite detailed and is incredibly heavy with the weight of the fabric. These images you can see below.
| | |
| --- | --- |
| The Merry Pippins costume | The Night Shawl |
| | |
| --- | --- |
| Tabatha Bag's Nightdress | Tabatha Bag's Flamenco dress |
Later I was in the room chatting with Jeremy and John who was trying my 22nd anniversary trivia quiz which he knew quite a few of the answers to (I'll have to make it even more difficult next year). Soon afterwards John left and it was time for Jeremy's interview to begin, I left to go outside whilst Jeremy was having his moment in the spotlight. Outside I stayed with Grant, Lee and his wife (and another cup of tea).
After Jeremy's interview there was a quick break whilst the room was being prepared ready for the final interview of the day with both Lee and Grant. I sat in on this interview where they talked about the series in great detail, this interview itself lasted 48 minutes! Both Lee and Grant went into great detail about the series discussing the first series, the casting, the crew and how they enjoyed working with Leon Thau (Hmmmm) amongst other aspects of the series.
Afterwards there were some time to get some more photographs of some of the props Lee had kept including the 'Exit With A Puff' script which was made out of a few Mike & Angelo scripts starting with the first episode of series three! Lee also brought in Jennie's scrapbook which she had left there from the first filming day. This scrapbook was made from the story book from T-Bag Strikes Again. The book has the pop-up scene of the Town Square from episode one which had been carefully glued back together. Seeing the book was another moment of complete surrealism, actually seeing it open up infront of my eyes was truly amazing (I know I really should get out more). Jennie's book also included some photographs, sketches by John Plant and some letters from fans of the show. The sketches in Jennie's scrapbook are very detailed and were incredible to see the effort that was made to design every episode and scene, the photographs I took do not really do them justice. Jennie also kept the circular images of her and I exclaimed 'it's T-Bag's dartboards' both Jeremy and Lee were took aback not at first realising what they actually were. They even have small marks in them so obviously Elizabeth was a very good shot during filming! Lee also brought in a crate full of episode scripts which I had a good look through (most of these were on different colour paper). I took various photographs of these which you can see below.
| | |
| --- | --- |
| The Exit With A Puff Script | Sunstones of Montezuma episode script |
| | |
| --- | --- |
| Jennie's Storybook | Thinking Small |
| | |
| --- | --- |
| The Dartboard photographs | T-Bag Strikes Again Episode One Sketch |
| | |
| --- | --- |
| T-Bag Strikes Again Episode Four Sketch | T-Bag Strikes Again Episode Eight Sketch |
The last part was used to film some of the photographs of the cast that both Lee and Grant have kept, whilst everyone chatted, Lee also put on a CD of Terry Trower's 'Greatest Hits' featuring many of his compositions for the show including many from Wonders In Letterland.
The day was then drawing to a close, Jeremy had left and so had most the crew working on the DVD and after a while longer I left with Grant and Dexter (who had been doing the interviews) after thanking Lee and his wife for such a great day. Grant kindly dropped me off at Kings Cross where I made the journey home (without a seat as the train was incredibly packed but I didn't mind as I had had the most T-Riffic day).
And Finally...
Many thanks to both Lee and Grant for the invitation and for such a fantastic day, it was great to meet them both and to see everyone else was just spectacular, it will be a day I will not forget in a hurry.
Since I've had all my photographs developed and added in my photo album (all gold and starry) with the photographs Grant kindly sent to me back in 2004.
If you want to buy the reunion DVD or to find out more details click here.