The Amazing Adventures Of T-BAG Book Merchandise Page
Back to: Home page | Merchandise Index

Jump to:
General Information
Book Blurb
Introduction
How to get a copy
Book Value
Book Promotion
More details
Customer reviews

GENERAL INFORMATION
Publish Date: 1st February 1990
Publish Details: First Published in Great Britain 1990 by Thames Mammoth an imprint of Mandarin Paperbacks Michelin House, 81 Fulham Road, London SW3 6RB in association with Thames Television International 149 Tottenham Court Road, London W1P 9LL.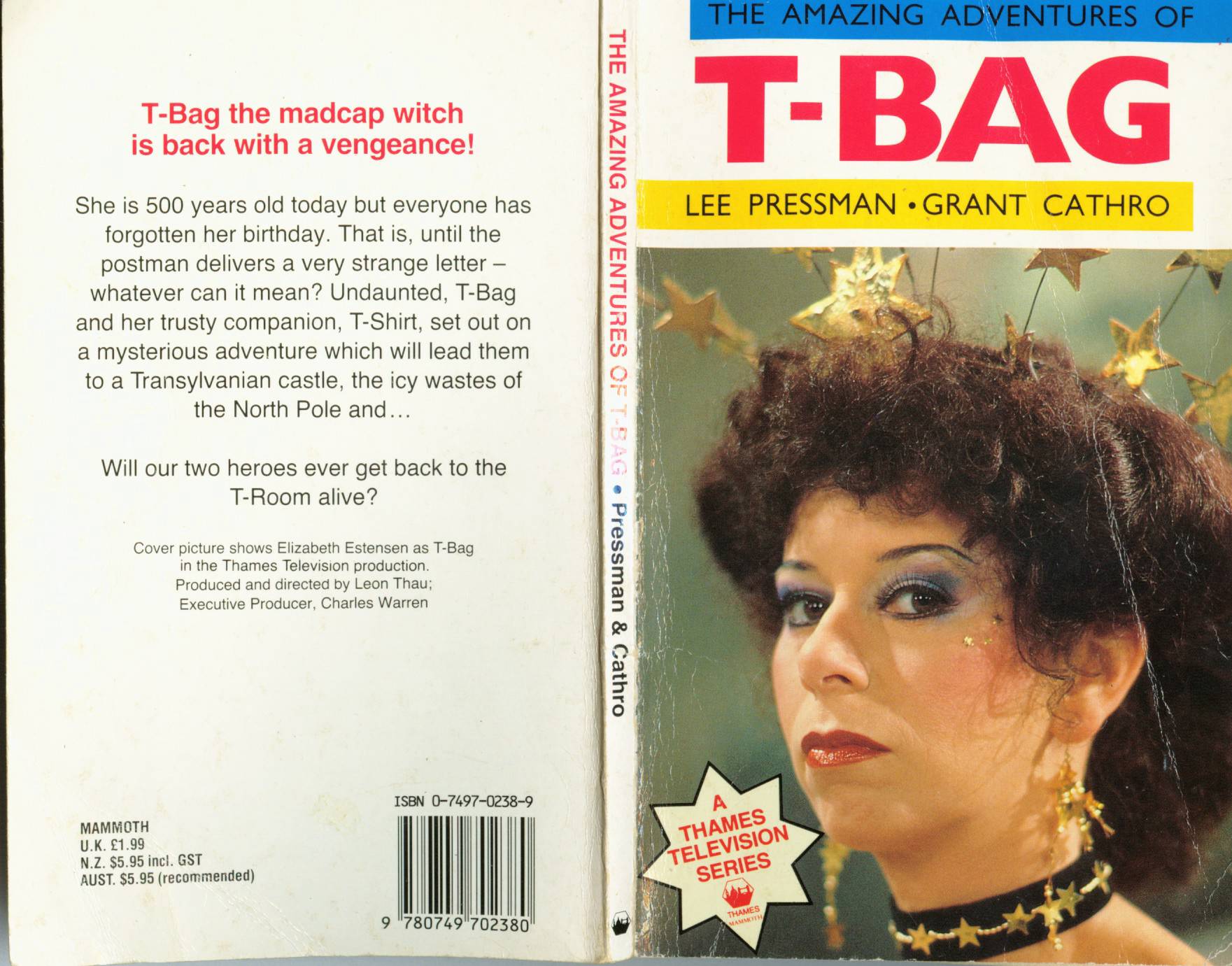 A CIP catalogue record for this title is available from The British Library.
Shelfmark H.90/2162
Printed in Great Britain by Cox & Wyman Ltd, Reading, Berkshire.
Publisher: Mammoth Thames or Egmont Childrens Books -according to i16 Books by Grant Cathro and Any Book For Less The Amazing Adventures Of T-Bag Book Page (you may be able to get a copy from here).
Original Price: U.K. £1.99 N.Z. $5.95 incl. GST AUST. $5.95 (recommended)
ISBN-10: 0-7497-0238-9
ISBN-13: 9780749702380 (source: isbnsearch.org)
Barcode 9 780749 702380
Out-of-print date: 15/12/2007
The book was also reprinted in 1990. The reprinted books say 'Reprinted 1990' on the inside cover page.
Dimensions: 11x18cms
94 numbered pages (Split into eight chapters), 2 un-numbered pages and covers.
Publish Date: 1st February 1990
Book Format: Paperback
BLURB
T-Bag the madcap witch is back with a vengeance!
She is 500 years old today but everyone has forgotten her birthday. That is, until the postman delivers a very strange letter – whatever can it mean? Undaunted, T-Bag and her trusty companion, T-Shirt, set out on a mysterious adventure which will lead them to a Transylvanian castle, the icy wastes of the North Pole and…
Will our two heroes ever get back to the T-Room alive?
Cover Picture shows Elizabeth Estensen as T-Bag in the Thames Television production. (This is from the Series T-Bag Strikes Again Ep3-10 & T-Bag Bounces Back.)
Produced and directed by Leon Thau;
Executive Producer, Charles Warren.
INTRODUCTION TO THE BOOK
This book was released in 1990 and it tells the story of Tallulah Bag's 500th Birthday and her quest to find a grand surprise through a series of clues (If this seems familiar it was adapted for the last T-Bag series, Take Off With T-Bag). This was released in 1990 after Tallulah Bag was ultimately defeated in the series T-Bag And the Revenge Of The T-Set (1989) so either she is alive and well or it happened before she was destroyed. T-Shirt and Granny Bag appear in the story along with Tabatha Bag who is mentioned in the last chapter at Tallulah's Birthday Party.
HOW TO GET A COPY OF THIS BOOK
You may be able to get a copy of this book from any of these websites:
Any Book For Less
Amazon.co.uk
Amazon.com (USA)
eBay UK as it does sometimes appear here for auction.
THE VALUE OF THE BOOK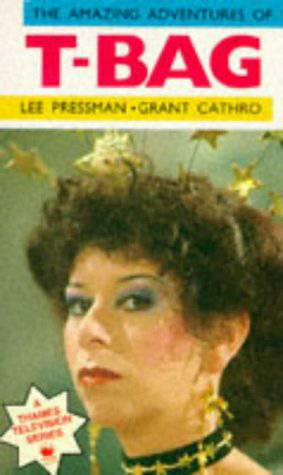 This book is very rare (even more so than the T-Bag And The Pearls Of Wisdom VHS Video) and has only appeared a handful of times on eBay to my knowledge. Here are the value of the book based on the previous eBay UK auctions.
eBay Value
Date (Ended)
Final Bid/
Buy It Now
Price
P&P Costs
Final Cost
Other Details
£
£
£
23rd JAN 06
£8.40
£2.10
£10.50
9th JAN 06
£2.99
£2.10
£5.09
6th DEC 05
£16.67
£2.10
£18.77
5th NOV 05
£2.20
£0.50
£2.70
My New Copy!
Unsold Copies
1st JAN 06
N/A
£2.10
N/A
No Bids - Starting Bid Price £2.99
23rd MAY 04
N/A
£2.20
N/A
Reached £11.25 but did not meet it's reserve
Average eBay Value
Average Final Bid
Average P&P
Average Final Cost
£7.57
£1.85
£9.27
BOOK ADVERTISING/PROMOTION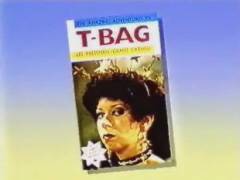 The book was promoted at the end of the repeat screening of the T. Bag And The Revenge Of The T. Set series in 1991. See image right.
In some shops there was a (cardboard box) display to hold the books, the display had the strapline 'It's T-Bag Time!'
MORE DETAILS
The following websites have information on The Amazing Adventures Of T-Bag book:
John Seymour UK Book Guide The Amazing Adventures Of T-Bag Page
isbnsearch.org - T-Bag book page
MINI-REVIEWS OF THE BOOK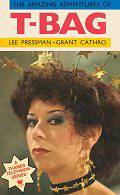 "A must for every T-Bag fanatic!"
A welcome diversion from the series and a fantastic read. The story makes a drastic departure from the previous series and as a result makes the story more unpredictable.
Split into eight chapters this story tells the tale of Tallulah Bag's quest to find her Birthday surprise. As we follow T-Bag and T-Shirt's journey through the many lands the clues take them to it shows the story is written exceedingly well although some of the stories are similar to previous episodes this doesn't detract from the enjoyment of the book.
Highly influenced by Elizabeth Estensen's portrayal of Tallulah Bag and John Hasler's portrayal of T-Shirt the characters come to life within your imagination.
I got this book from a market book stall when I was quite young and I was very pleased with it then and I'm even more pleased now as it is a great read even in your twenties.
This book is exceedingly rare, with a limited print run, so getting your hands on this would prove tricky to say the least but it is a must for every T-Bag fanatic!
Jamie (ME)
---
If you would like to write a mini-review of this book e-mail me or PM me or post your review on The T-Bag Forum!