T-Bag Strikes Again DVD
Back to: Home page | Merchandise Index
Jump to:
General Information
Official Blurb
How to get a copy
Episode Guide
Bonus Features/Extras
More details
Progress & Development
Reviews & Reception
Customer reviews

After the release of the first series of T-Bag (Wonders in Letterland) on DVD Revelation films announced that series two would be released in January 2011.
Amazon listed the series for pre-order in September 2010 with a release of 24th January 2011. Revelation Films officially announced the series on their website on Friday 12th November 2010.
This page chronicles all the latest information about the DVD release with links to online retailers where you can purchase the DVD. News and updates are taken from a variety of sources including Revelation films, Revelation Films Twitter page, Wikipedia - Revelation Films page and Facebook - Revelation Films page.
GENERAL INFORMATION
Release Date (UK): 24th January 2011
RRP (Recommended Retail Price): £12.99
Released by: Revelation films
Running Time: 201m 45s / 3 hours 21 minutes (10 episodes).
BBFC Rating: U (Universal, suitable for all).
Classified (by BBFC): 10/11/2010.
BBFC Reference: AVV274640
Region/Format: PAL region 2
Number of discs: 1
Language: English
Aspect Ratio: 4:3
ASIN: B004434DOS
OFFICIAL BLURB
Below is the official blurb from the DVD itself and the Revelation Films website:
DVD cover blurb
A second series of fun and frolics from the classic kids TV show that fans have remained loyal to for 25 years!
Toasted teacakes... T-Bag (played by Elizabeth Estensen) is back! Having discovered a new enchanted T-Plant in the Magic Garden of a storybook the evil witch's magical powers have been restored. She has stopped time by stealing the silver numbers from the town clock so that the stories in the book can never end and she will never be destroyed! Will Debbie (Jennie Stallwood) manage to retrieve all the misssing numbers and stop T-Bag and her companion T-Shirt (John Hasler) in their tracks?
Revelation Films website blurb
The classic kids TV show that fans have remained loyal to for 25 years, returns for a second series of fun and frolics!
Having been defeated, evil witch T-Bag (played by Elizabeth Estensen) moves on from the board game to a storybook in T-Bag Strikes Again, where she decides to take up residence in a magical garden. She prevents the story from ever ending by stealing the numbers from a clock but will Debbie (Jennie Stallwood) manage get them all back and stop T-Bag and her companion T-Shirt (John Hasler) in their tracks?
HOW TO GET THE DVD
The DVD was released on 24th January 2011. The DVD may be ordered via online retailers. To get up-to-date information on the price and availability please visit best-dvd-price.co.uk; Find-dvd.co.uk or dvdcollections.co.uk.
The following table shows all known websites that have the T-Bag Strikes Again DVD to purchase. Click on the link to take you to the DVD page.
UK Retailers
Amazon.co.uk
Blackwell.co.uk
Zavvi.com

Links correct at time of writing but may have changed. As this DVD was released in 2011 stores may have sold out and not have stock available for despatch. It may be easier to purchase this DVD (new or second hand) from sellers on eBay or Amazon.
Please note the websites above are listed for comparison only and The High-T Website has no affiliation with any online retailer.
EPISODE GUIDE TO THE SERIES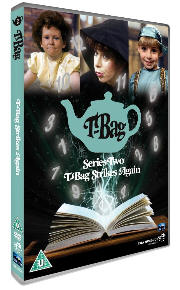 The DVD features all ten episodes from the second series, below shows the list of episodes and their running times (confirmed by BBFC).
| | | |
| --- | --- | --- |
| # | Episode Title | Running time |
| 1 | The Town Clock | 00:20:14:23 |
| 2 | One, Two Buckle My Shoe | 00:20:09:10 |
| 3 | Ben And Bunty Badshot | 00:20:14:20 |
| 4 | Scrap Harry | 00:20:14:23 |
| 5 | Ali Barber | 00:20:14:21 |
| 6 | Dick Gherkin | 00:19:57:14 |
| 7 | Long John Sylvia | 00:20:15:01 |
| 8 | Professor Pockets | 00:19:53:05 |
| 9 | Charlie Chuckles | 00:20:09:23 |
| 10 | The Magic Garden | 00:20:19:24 |
BONUS FEATURES
Revelation Films have included more episode commentaries with Elizabeth Estensen (T-Bag), John Hasler (T-Shirt) and Jennie Stallwood (Debbie) for this series. These cover four episodes: Episodes 1, 2, 9 and 10.
The extras also include a photo gallery consisting of official photographs and some from Lee Pressman and Grant Cathro. This photo gallery contains 26 photographs lasting 2 minutes and 40 seconds approx.
There is also a gallery consisting of design sketches by designer John Plant. This gallery contains 36 sketches lasting 3 minutes and 47 seconds approx.
There is also a 'Also available' section showing other DVD's available from Revelation Films including the first series of T-Bag.
MORE DETAILS
More details were found on the official Revelation Films website. The links below will take you to those webpages via the Internet archive.
Revelation Films - T-Bag Series Two page
Revelation Films - T-Bag newspage

PROGRESS & DEVELOPMENT OF THE DVD
These quotes from reliable sources show the development the DVD took from initial production to release.
More T-Bag, You Say...

We are delighted to announce that the second series of the wonderful 80s kids TV show, T-Bag has been confirmed for release on the 24th January 2011.

T-Bag Strikes Again sees evil witch T-Bag and her adorable accomplice T-Shirt return for more fun and frolics.

And as if that wasn't enough, you can also look forward to T-Bag Series Three (T-Bag Bounces Back) on 02 May 2011 and T-Bag Series Four (Turn On To T-Bag) on 08 August 2011.

Fun, fun, fun!

Friday, 12 November 2010 11:01
Revelation Films have released the promotional trailer on their youtube channel which can also be seen below.
Any further news will be added here and at The T-Bag Forum.
DVD RECEPTION & REVIEWS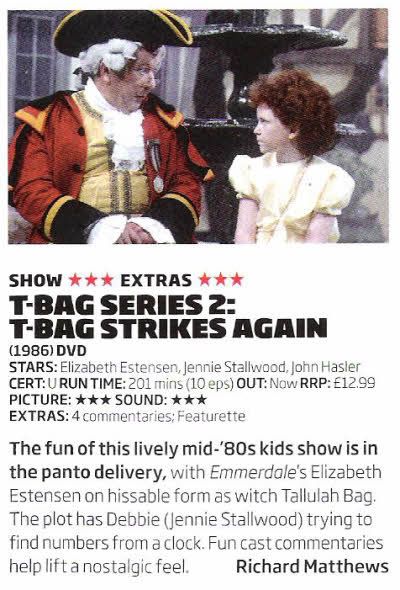 The DVD was reviewed in 'DVD & Blu-ray Review magazine' (Issue 153 - May 2011, page 89) rating the DVD itself 3 out of 5 and 3 out of 5 for the extra features. See image right for the full mini-review.
If you see any other reviews online or in magazines please let me know and I'll add them here.
MINI-REVIEWS
"As enchanting as you remember!"
The second DVD is now available from all good retailers and it's great to see the series again with perfect picture and sound quality. The magic lasts through all ten episodes that are featured in their entirety. The charm of the series is there from episode one and spans the series to the climatic showdown. The laughs and comedy is there with the plot of the quest for the silver numbers keeping up the pace.
The cover of the DVD evokes the feeling of the series, the silver numbers floating from the book captures the essence perfectly. The description on the back cover and the photographs of T-Bag, T-Shirt, Debbie and Hickory would make the DVD recognisable to those who have faded memories the series.
The DVD menus again are interactive and plays on the storybook theme. The episode selection menu in the guise of the town clock with silver numbers for episodes one to ten is inspired - I wonder what Revelation Films will come up with for the next DVD.
The DVD extras are well put together. Episode commentaries return with Elizabeth Estensen, John Hasler and Jennie Stallwood on brilliant form remembering, with a great deal of affection, the episodes and the time in production. The extras also include a photo gallery, much longer than the last series DVD now including photographs by Lee Pressman and Grant Cathro - an excellent addition. The final extra is a gallery of sketches from the designer John Plant, these are courtesy of me (and the website) after I purchased them from John's family, these have been included as something special for the fans - I hope you like them!
To sum up this is a wonderful DVD, a treat for fans of the series. Revelation Films have struck gold again. I'd recommend the DVD to everyone who watched the series back in the 1980's to relive it - it really is as enchanting as you remember! Buy it now - you won't regret it.
Jamie (me)
---
"Coming soon!"
If you would like to write a review please send your reviews to me either via e-mail or via The Forum.
You?