T-Bag Bounces Back DVD
Back to: Home page | Merchandise Index
Jump to:
General Information
Official Blurb
How to get a copy
Episode Guide
Bonus Features/Extras
More details
Progress & Development
Promotion of the DVD
Reception of the DVD
Customer reviews

After the release of the first series of T-Bag (Wonders in Letterland) on DVD Revelation films announced that series three would be released in May 2011.
Revelation Films officially announced the series on their website on Friday 12th November 2010.
This page chronicles all the latest information about the DVD release with links to online retailers where you can purchase the DVD. News and updates are taken from a variety of sources including Revelation films, Revelation Films Twitter page, Wikipedia - Revelation Films page and Facebook - Revelation Films page.
GENERAL INFORMATION
Release Date (UK): 9th May 2011
RRP (Recommended Retail Price): £12.99
Released by: Revelation films
Running Time: 199 minutes 44 seconds (10 episodes).
BBFC Rating: U (Universal, suitable for all).
Classified (by BBFC): 24/02/2011.
BBFC Reference: AVV277215
Region/Format: PAL region 2
Number of discs: 1
Language: English
Aspect Ratio: 4:3
ASIN: B004BFZA78
OFFICIAL BLURB
Below is the official blurb from the DVD itself and the Revelation Films website:
DVD cover and Revelation Films website blurb
T-Bag is back... and her powers are stronger than ever!
In the third series of the classic kids TV show, T-Bag has taken up residence in a musical box, banishing Major Happy from his home and stealing the eight gold bells from his glockenspiel. The precious bells have been scattered across the world and it is up to Debbie to take on the evil T-Bag once again. With T-Shirt back under T-Bag's spell, Debbie must journey alone, visiting foreign lands and meeting a whole host of colourful natives, as she sets out to return the musical box to the happy place it once was.
First broadcast in 1987, T-Bag Bounces Back includes appearances from fantastic guest stars including Burt Kwouk, Bernard Bresslaw, Frank Thornton and Tony Haygarth.
HOW TO GET THE DVD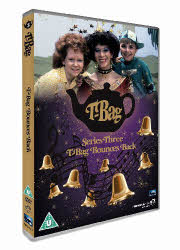 The DVD was released on 9th May 2011. The DVD may be ordered via online retailers. To get up-to-date information on the price and availability please visit best-dvd-price.co.uk; Find-dvd.co.uk or dvdcollections.co.uk.
The following table shows all known websites that have the T-Bag Bounces Back DVD to buy. Click on the link to take you to the DVD page.

UK Retailers
Amazon.co.uk
Blackwell.co.uk
Zavvi.com

Links correct at time of writing but may have changed. As this DVD was released in 2011 stores may have sold out and not have stock available for despatch. It may be easier to purchase this DVD (new or second hand) from sellers on eBay or Amazon.
Please note the websites above are listed for comparison only and The High-T Website has no affiliation with any online retailer.
EPISODE GUIDE TO THE SERIES
Below shows the list of episodes and their respective running time, confirmed by the BBFC.
| | | |
| --- | --- | --- |
| # | Episode Title | Running Time |
| 1 | The Ousting Of Major Happy | 00:20:17:04 |
| 2 | Nights In Arabia | 00:19:57:07 |
| 3 | Ivan The Horrible | 00:19:33:23 |
| 4 | Black Hearted Belle | 00:20:05:02 |
| 5 | Bobby Jobsworth and The Temple of Doom | 00:20:02:17 |
| 6 | Hi-Hat | 00:20:13:23 |
| 7 | Bell, Book and Candle | 00:19:57:24 |
| 8 | Max The Miller | 00:19:44:10 |
| 9 | Nikdit The Thief | 00:19:58:15 |
| 10 | Happy Ending | 00:19:52:19 |
BONUS FEATURES
This series does not include any commentaries but includes the following extras:
Photo gallery consisting of official photographs and some from Lee Pressman, Grant Cathro and Raymond Childe. This photo gallery contains 49 photographs lasting 3 minutes and 19 seconds approx.
There is also a gallery consisting of design sketches by designer John Plant. This gallery contains 28 sketches lasting 2 minutes and 3 seconds approx.
Original Notes From Writers Grant Cathro & Lee Pressman consists of 8 pages of notes lasting 1 minute 14 seconds approx.
Handwritten Lyrics show the draft lyrics of Major Happy's song (Ep1), Black Hearted Belle's song (Ep4) and Hi-Hat's song (Ep6) lasting 3 minutes and 12 seconds approx.
Press cuttings include episode synopsis and images mainly from the TV Times, this consists of 14 cuttings lasting 1 minutes and 15 seconds approx.
Extra DVD Rom features include the Rehearsal script from episode three and planning notes and script from episode one, these are in PDF format.
There is also a 'Also available' section showing other DVD's available from Revelation Films including the second series of T-Bag.
MORE DETAILS
More details were found on the official Revelation Films website. The links below will take you to those webpages via the Internet archive.
Revelation Films - T-Bag Bounces Back DVD
Revelation Films - T-Bag newspage

PROGRESS & DEVELOPMENT OF THE DVD
These quotes from reliable sources show the development the DVD took from initial production to release.
More T-Bag, You Say...

We are delighted to announce that the second series of the wonderful 80s kids TV show, T-Bag has been confirmed for release on the 24th January 2011.

T-Bag Strikes Again sees evil witch T-Bag and her adorable accomplice T-Shirt return for more fun and frolics.

And as if that wasn't enough, you can also look forward to T-Bag Series Three (T-Bag Bounces Back) on 02 May 2011 and T-Bag Series Four (Turn On To T-Bag) on 08 August 2011.

Fun, fun, fun!

Friday, 12 November 2010 11:01
@Sunday_boy Glad you are loving T-Bag. Yes, more commentaries on S2 but S3 onwards are not confirmed at this point. Stay tuned!

3:46 PM Dec 8th via Twitter for iPhone in reply to Sunday_boy
Who wants to see what T-Bag Series Three will look like? Well it's your lucky day! http://twitpic.com/43kazs

4:47 AM Feb 25th via Twitpic
PROMOTION OF THE DVD
Revelation Films have promoted the DVD on their website, twitter and facebook pages. They have produced images to promote the series as below.
Revelation also produced a press release advertising the DVD to the media. This can also be seen below.
Play.com run a full page advert in 'DVD & Blu-ray Review magazine' (Issue 150 - February 2011, page 11) promoting the DVD release of the first two series. This also mentions the release of T-Bag Bounces Back in May 2011. This can also be seen below.
Amazon.co.uk run a full page advert in 'DVD & Blu-ray Review magazine' (July 2011, issue 155, page 15) promoting the DVD release of the first three series. This can also be seen below.
DVD RECEPTION & REVIEWS

The DVD was reviewed in 'DVD & Blu-ray Review magazine' (Issue 156 - Summer 2011, page 109) rating the DVD itself 3 out of 5 and 2 out of 5 for the extra features. See image right for the full mini-review.
The DVD has been reviewed on the website www.cultbox.co.uk rating it 2 out of 5.
If you see any other online reviews please let me know and I'll add them here.
MINI-REVIEWS
"Charming and classic series"
The third series of T-Bag is now available on DVD and what a treat for the fans it is. The picture and sound quality is superb, considering it was first broadcast in 1987 the DVD episodes are as clear as a bell.
The DVD features all ten episodes and this series features some of my favourite T-Bag episodes ever - including Black Hearted Belle, Bobby Jobsworth and the Temple of Doom, Hi-Hatt and Max the Miller. All the other episodes are just as enjoyable to watch and showcases how the series has developed from the first series.
You will notice when you get to the third episode (Ivan the Horrible) it isn't from the original master copy but the version used is perfectly watchable (and with full credits) and almost on par with the excellent picture quality of the other nine episodes.
The DVD cover, with a deep golden colour matches the golden bells being collected in this series, and showcases photographs of some of the guest cast (Tony Haygarth, Burt Kwouk, Frank Thornton and Bernard Bresslaw) to appear in this series. The blurb is well put together and explains the series 'to a tea' if someone was to pick it up in a high street shop - you know you want to buy it!
The only problem is watching ten episodes goes so very quickly, it makes you want more (and if you've not got the first two series on DVD you can get your T-Bag fix by buying them too). The episode themes and plotlines are more varied in this series and will take you to places as far-flung as a Carribean island to an Indian market, through China, Holland, Russia and back to the intriguing and nostalgic curiosity shop.
The menus of the DVD are easy to navigate and exploit the 'music' theme of the series, with bells and musical notes scattered in the backgrounds. The episode menu shows the episodes on the sides of the music box, with clear images and titles of the episodes. The extras menu showcases Major Happy's harmony theme he uses to destroy T-Bag at the end of episode ten, a wonderful use of the music and one that is sure to make every fan smile with childish glee.
Speaking of extras, these are again in abundance, there are no episode commentaries on this DVD but instead Revelation Films have given fans more production related goodies including original notes, scripts, production sketches (again from me - hope you like them) and press cuttings. Also included is a much longer photo gallery with many unseen publicity and production photographs, again including photographs from Lee and Grant and also some from costume designer Raymond Childe - these are a joy to see.
Everyone remembers the 80's for it's fashion and hair styles but as children of the 80's we remember it as the golden era of children's TV. Relive the 80's as it should be remembered by watching this charming and classic series - order it online now to make sure the DVD bounces through your letterbox!
Jamie (me)
---
"Coming soon!"
If you would like to write a review please send your reviews to me either via e-mail or via The Forum.
You?