Release T-Bag On DVD Appeal
Back to: Home page | Merchandise Index
Bring T-Bag Out On DVD Petition!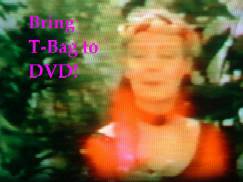 The first three series, Wonders In Letterland, T-Bag Strikes Again and T-Bag Bounces Back, have now been released on DVD by Revelation Films. This is due to the effort and time taken by everyone to get involved in our campaign for an official DVD release of the series. See Series one DVD, Series Two DVD and Series Three DVD for more information. Subsequent series are not to be released individually. Any up-to-date news of the nine series boxset can be found on the homepage of this website.
We've waited long enough for the many children's TV programmes we watched to be released on to DVD. Many of them have been released such as Rainbow, Dungeons and Dragons, Jamie And The Magic Torch, Chocky, Button Moon, Bertha, The Family Ness, Around The World With Willy Fog, He-Man, Danger Mouse, Press Gang and countless others that would take too long to list.
Go into any store in the high street on on the internet which sells DVD's and there is a large selection of childrens TV programmes from the 70's, 80's and 90's. But we want all nine series released on DVD so our campaign will continue until all nine series are available to purchase.
How many of you want to see this programme again, with a picture quality like the original broadcast. All of you, that's why you've visited this page!
The many people asking for copies both on the The T-Bag Forum! and The T-Room Forum is proof enough that some people are willing to pay for copies of T-Bag episodes. The high cost of the T. Bag And The Pearls Of Wisdom VHS when it appears on eBay and Amazon is further proof but we need more than that...
If we want to see T-Bag released on DVD (if it is only a series at a time) we must show Fremantle there is a high demand for this quality programme.
This is an appeal to raise awareness of Robert's petitions, try to get more support for the release of T-Bag and to get as many people to sign the petition.
It does not matter where you live (in the UK or Australia), whether you remember all the series or just one or two you can still sign the petition, the more interest the better. Please tell your friends about the appeal and the petitions.
There is a board on The T-Bag Forum! dedicated to the Bring T-Bag To DVD Appeal, discuss any matters relating to a possible DVD release.
Details about Robert's petition can be seen below:
Bring T-Bag Out On DVD Petition!
Set up by Robert Fairbanks in July 2004, the aim is to get as many people to sign the petition for the release of the series on DVD. I urge everyone to sign it. And I don't mean tommorrow...
Questions about a release of T-Bag:
Who owns the rights to T-Bag?
Fremantle Media currently owns the rights to T-Bag (previously made by Thames Television and previously owned by Pearson Television). It will be Fremantle who release the series (and Christmas specials) but we must convince them it will be profitable. Sending e-mails will NOT work, we must prove there is plenty of interest in T-Bag and a demand for the series on DVD.
Why should I sign the petition?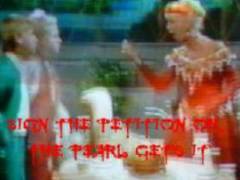 Although there was one series released commercially (T-Bag And The Pearls Of Wisdom see T-Bag Merchandise) the only chance of seeing the other series and Christmas Specials again is through an official release on DVD (and/or VHS).
Are you fed-up watching the episodes you have on old VHS tapes with a poor picture, wavy lines and fuzzy sound? Can't afford a second-hand copy of the officially released T-Bag and the Pearls of Wisdom VHS? If the answer is yes a DVD release would answer all your prayers! A DVD would offer a better picture and sound quality. The picture quality would be as good as the original broadcast.
When you were recording the programme all those years ago was there a power cut, part of your episode lost forever and that annoying loss of transmission of CiTV during episode one (Many Happy Returns) of Take Off With T. Bag?
So sign the petition NOW!
Is the series likely to be released outside of the UK?
When the series are released they will be released in the UK first whether the series will be released elsewhere (including Australia where it was also shown) is uncertain. We'll have to wait and see. Fingers crossed. Please note that if you purchase the DVDs released in the UK these are PAL Region 2 discs and you will need a region 2 or multi-region DVD player.
Where can I get more information about a possible DVD release?
The T-Bag Forum! has a board dedicated to the DVD release appeal, more information can be found there including voting polls and posts.
I've signed the petition, is there anything else I can do?
Let your friends know about the petition HERE! and as many people as possible, post on message boards, forums etc about the petition, the more support we can gather the more likely a release would be.
All nine of the series are available to vote for a DVD release over at TVShowsonDVD.com where people can vote for programmes they would like to see released on DVD. Click on the following links to take you to the respective series pages where you can vote if your a member of the website (and if your not a member you can sign up as it is completely free):
Voting on the website may also help to provide further proof to Fremantle that there is a demand for the series to be released on DVD so go and vote now.
How many signatures are you aiming for?
Robert Fairbanks (whose petition it is) says we are aiming for 2000 and then Fremantle would start considering it. An excerpt from his post on the old T-Room message board from January 2005 is below
"If it helps my petition keeps going from strength to strength so hopefully as this year progresses more people will sign the petition. I'll bring the petition to Fremantle's attention at some point to let them know the demand is there and if they see the demand is there they might consider releasing the series you never know. What will bother Fremantle is the money side of things obviously. If somebody is going to buy the rights to the music and sound effects they would I presume have to get the money back through people buying the dvd's and they'll want a lot of buyers won't they. How much money are we looking at do you think for somebody to buy the rights to the music and sound effects. Perhaps we could chip in between ourselves and help them out money wise, what do you say.
When I last spoke to Fremantle they told me they would want at least 2000 signatures on my petition before they think about releasing it on dvd. It currently has 441 signatures on it so hopefully by the end of this year it will be up there at the 2000 mark as 3-5 different people sign it everyday."
At the end of January 2007 we passed the magical 2000 signatures and the petition has grown by several hundred since and the more signatures we get the more enticing this may be for Fremantle to release the series on DVD so please keep the signatures coming.
Wasn't there another petition as well?
Yes there was and it was made by Benji, along with a website. More support has been shown by the Bring T-Bag Out On DVD Petition! but if you want to see Benji's website and petition here are the links:
Bring T-Bag To DVD Website
Bring T-Bag To DVD Petition

Thanks to Benji for his images I have used here.
Are episodes available to download officially from Fremantle?
At the time of writing Fremantle are progressing rights on the series with the aim to make T-Bag available as a digital download to either own or rent, if this proves successful a DVD release will hopefully be forthcoming. Any news will be added here as soon as it is known. Due to the DVD release of the first three series with other series hopefully to follow digital downloads seem unlikely to happen.