Kellie Bright Biography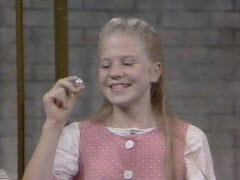 As Sally
T. Bag and The Pearls of Wisdom (1990)
Back to: Home page | Cast Biographies Index
Welcome to the Kellie Bright Biography page.
Jump to:
General Info
Biography
Links
Notable Credits
<!_________________________________________________________________________GENERAL INFO___________________________>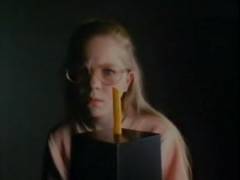 McCains Oven Chips Advert
FULL NAME: Kellie Denise Bright
CHARACTER/S IN T-BAG:
Sally Simpkins
Anastasia/Rosie (T-Bag And The Revenge Of The T-Set Ep7)

EPISODES APPEARED IN:
21 Episodes (2 Series & 1 Christmas Special)

BIRTH DATE: 1st July 1976 (Age: )
BIRTH PLACE: Brentwood, Essex, UK
STAR SIGN: Cancer

<!_________________________________________________________________________BIOGRAPHY___________________________>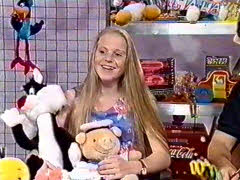 Children's ITV (1991)
Kellie Bright first appeared on Television screens in a commercial for the board game 'Knock your Block Off'. The ad starred a brother and Kellie as the snooty sister. In the advert they played the board game (similar to Jenga) with the boy rapping along to a song about how much his sister is a smart alec. The advert finished with him saying 'Just you wait, you clever clogs! One day I'll knock your block off!' Kellie also appeared in the McCains Oven chips advert later.
Kellie Bright first regular TV appearance was in T-Bag (T. Bag And The Revenge Of The T-Set) where she was the only girl to destroy T-Bag for good. Kellie is the only one of the five girls to appear on a T-Bag Christmas special (T-Bag's Christmas Carol) which was filmed at the same time as T-Bag And The Revenge Of The T-Set. Kellie Bright came back to T-Bag for her second series alongside John Hasler and a new T-Bag, Tabatha Bag played by Georgina Hale.
Kellie also appeared in the Children's Royal Variety Performance in 1989 as part of a chorus of children singing 'I'd Like To Teach the World To Sing'.
In 1991 during the repeat broadcast of T. Bag and The Revenge of the T. Set Kellie appeared as a guest on Children's ITV alongside presenter Tommy Boyd.
The Upper Hand (1990)
After appearing in 21 episodes of T-Bag (making Kellie the second most prolific girl in T-Bag after Jennie Stallwood's Debbie) and in six episodes of the BBC children's TV programme, Maid Marion And Her Merry Men, she got the role of Joanna Burrows in the ITV comedy series The Upper Hand alongside Joe McGann (Charlie Burrows); Diane Weston (Caroline Wheatley); Honor Blackman (Laura) and William Puttock (Tom Wheatley). Kellie appeared in The Upper Hand throughout all seven series (Kellie does not appear in just one episode of the 95 episodes). In series one she starts as a young child and by series seven she's a married woman (and beats Charlie Burrows (her Dad) and Caroline Wheatley to the alter).
After The Upper Hand Kellie only had minor roles on our TV screens, this may have been different if the TV pilot 'It Must Be Love' (where she starred alongside former T-Bag co-star Elizabeth Estensen) had made it to a series.
Kellie
Before and during this time Kellie Bright was a regular member of the BBC radio programme The Archers as Kate Madikane (nee Archer) and meanwhile had very small roles in 1998 and 2000 on TV in highly acclaimed TV series such as The Bill. Kellie also appeared with Timothy Spall in The Thing about Vince and in 'Cor Blimey' the TV drama based on the actors from the Carry On films.
During her career Kellie has made a few forays into theatre acting in the plays Sparkleshank and Snake In Fridge at The Royal Exchange in Manchester (From 15th Nov-9th Dec 2000). Kellie got great reviews from the national papers for her role in Snake In Fridge: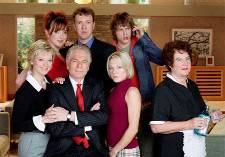 The House That Jack Built (2002)
'An enjoyable ride, made THRILLING by some scarily GOOD PERFORMANCES, particularly from Kellie Bright as the controlling Caddie and Amy Marston as the spacey Donna.' (The Guardian)
'Adam Sims, Kellie Bright and the other members of Braham Murray's cast CAN'T BE FAULTED' (The Times)
Meanwhile Kellie has been working in a clothes shop during the day and in a bar at night but it was 2002 that Kellie started to get more acting roles, the first being The Ali G movie, as Me Julie. Kellie went on to appear in the TV series Bad Girls and the BBC comedy The House That Jack Built alongside Gillian Taylforth and Adam Faith. Although the series was panned by the critics a second series was never likely to be commissioned and with the death of Adam Faith in 2003 quashed any hope of a second series. Kellie's role as Lisa Squire was not to be as successful as her role of Joanna Burrows in The Upper Hand all those years before.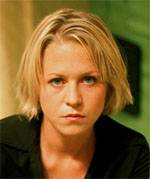 As Cassie Tyler
Bad Girls (2002)
By this point in her career Kellie had many different characters that she had portrayed - a good girl; a bad girl (literally); a spoiled girl etc in many different roles- children's TV; comedy; films; dramas etc.
At the 2002 National Music Awards Kellie collected an award for the 'Me Julie' song by Shaggy and Ali G (from the film Ali G Indahouse) on behalf of Ali G and Shaggy. Kellie said when accepting the award that she didn't think she'd ever be accepting an award for music.
Over the past few years Kellie has appeared in numerous plays including 'Relatively Speaking' and 'Paul' at the National theatre. Kellie has also recorded a couple of 'talking books' including 'The Magicians Guild' released in February 2006.
In 2005 Kellie reappeared on our TV screens in the ITV drama Jericho. She even dyed her hair black for the character of WPC Penny Collins. Kellie also appeared on the big screen in the film Kinky Boots.
In subsequent years Kellie had been in major productions in the theatre accross the country, some of the programmes for the plays Kellie has featured in can be seen below:

Be My Baby

Exchange

Lady Of Leisure

Love And Money

Mary Barton

Paul

Relatively Speaking

Whipping It Up

Whipping It Up
The Catherine Tate Show (2007)
Following on from several theatre performances Kellie also appeared in guest roles in a number of several TV programmes, mainly in comedy sketches such as 'The Catherine Tate Show' and in 'Horne & Corden'. Not to leave dramatic roles Kellie appeared as guest characters in episodes of 'Holby City', 'Hotel Babylon' and 'New Tricks'. Kellie then landed the part of the ill-fated Joan Trotter in the prequel to 'Only Fools & Horses' titled 'Rock & Chips', filming began in 2009 and this special aired in early 2010. Kellie starred alongside Nicholas Lyndhurst (as Freddy Robdal) to tell the story of her liason with Freddy, the birth of Rodney Trotter and moving into the newly built Nelson Mandela House.
Rock & Chips (2010)
Kellie reprised her role of Joan Trotter in two further specials of Rock and Chips, these were broadcast at Christmas 2010 and Easter 2011.
Kellie has also done voice-over work for video games such as Xenoblade Chronicles on Wii released in August 2011 where she voiced the character Sharla. Other video game voiceovers include Fable III and Dragon Age II.
Since the role of Joan Trotter, Kellie appeared in episodes of One Night, Great Night Out and Casualty.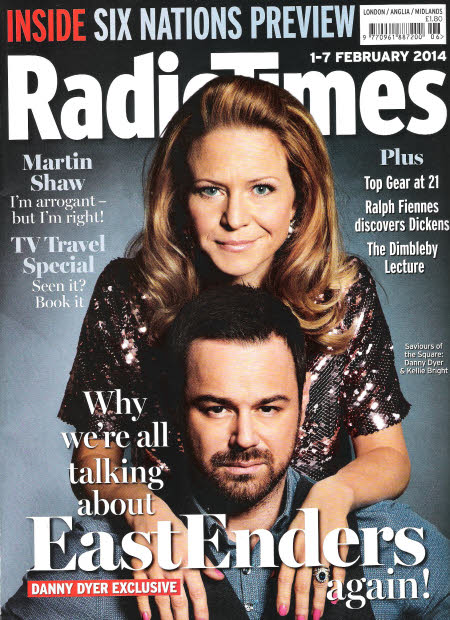 Radio Times cover (2014)
In October Kellie Bright appeared on BBC gameshow Pointless Celebrities and won with Archers co-star Tim Bentinck.
On 1st October 2013 the BBC announced that Kellie Bright was to join Eastenders, alongside Danny Dyer, to take over the Queen Vic. Kellie Bright first appeared in the episode broadcast on 19th December 2013 playing the feisty Linda Carter and reappeared on 26th December when the Carter family arrived to take over the Queen Vic pub. Kellie is currently starring in Eastenders and has now appeared in over eighty episodes (as of July 2014).
In February 2014 Kellie appeared on the cover of the Radio Times, alongside Danny Dyer. Kellie was nominated in The British Soap Awards 2014 for 'Best On-Screen Partnership' but lost out to Julie Hesmondhalgh and David Neilson.
2014 has also seen appearances on The One Show, Saturday Kitchen and Masterchef. Kellie also appeared in an episode of ITV detective drama Vera.
In August 2015 Kellie was the third celebrity confirmed to appear in the upcoming series of Strictly Come Dancing. Kellie was partnered with professional dancer Kevin Clifton. Throughout the series Kellie survived two dance offs and reached the final where two out of her three dances (the tango and showdance) scored a perfect 40 (the other dance, the Charleston, scoring 39) and was the runner up to The Wanted's Jay McGuiness.
<!_________________________________________________________________________LINKS___________________________>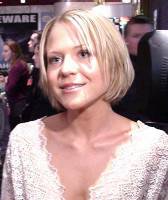 Ali G Indahouse Premiere
(2002)
There is a board dedicated to Kellie Bright on The T-Bag Forum!
The following information on Kellie Bright's TV & Film appearances is from these following resources:
Kellie Bright Fan Website (archive link) A Kellie Bright fan site with many images & info. Many thanks to Jen for the images of Kellie.
Kellie Bright Online (Photobucket images)
Kellie Bright (The Internet Movie Database)
Kellie Bright (TV.com) Thanks to Daisy for her help!
The T-Room
The Actors Compendium (Aveleyman.com)
Twitter fan-page for Kellie Bright
Kellie Bright official Twitter account

If you have any images of Kellie Bright or any further information on appearances (if you can fill in the ? details below) etc or if you would like to remove these images here (if they are yours) please contact me.
<!_________________________________________________________________________APPEARANCES___________________________>
1980's
1989
T-Bag And The Revenge Of The T-Set
Kids TV Series | Main cast (10 episodes)
(3.1.1989-7.3.1989)
As: Sally Simpkins
The Stone Circle (#1.1, 03/01/1989)
When In Rome (#1.2, 10/01/1989)
Lost In Space (#1.3, 17/01/1989)
Turkish Delight (#1.4, 24/01/1989)
Hazel Knutt's Muesli Bar (#1.5, 31/01/1989)
Rock Star Baby (#1.6, 07/02/1989)
Anastasia (#1.7, 14/02/1989) ... (Also as Anastasia/Rosie)
La Boheme (#1.8, 21/02/1989)
The Bard (#1.9, 28/02/1989)
The Ceremony (#1.10, 07/03/1989)


Image from episode one
The Bill
TV Series | Guest cast (1 episode)
(21.03.1989)
As: Daughter of Mr. Carmody (uncredited)
Suspicious Minds (#5.23, 21/03/1989)



Children's Royal Variety Performance
TV Series | Guest cast (1 episode)
(01.05.1989)
As: Herself


Maid Marian And Her Merry Men
Kids TV Series | Main cast (6 episodes)
(16.11.1989 - 21.12.1989)
As: Little Girl
How the Band Got Together (#1.1, 16/11/1989) ... (uncredited)
Robert the Incredible Chicken (#1.2, 23/11/1989)
A Game Called John (#1.3, 30/11/1989)
The Miracle of St. Charlene (#1.4, 07/12/1989)
The Sharp End of a Cow (#1.5, 14/12/1989)
The Whitish Knight (#1.6, 21/12/1989)



T-Bag's Christmas Carol
Kids TV Special | Main cast
(26.12.1989)
As: Sally Simpkins


Birds Eye Ketchips Commercial
TV Commercial | Main cast (1 advert)
(1989)
As: Girl


1990's
1990
T-Bag And The Pearls Of Wisdom
Kids TV Series | Main cast (10 episodes)
(2.1.1990-6.3.1990)
As: Sally Simpkins
Any Old Port (#1.1, 02/01/1990)
High Noon (#1.2, 09/01/1990)
Elementary, My Dear What-Not (#1.3, 16/01/1990)
Grimble and Squiffy (#1.4, 23/01/1990)
Mutiny! (#1.5, 30/01/1990)
The Ghost of Castle McCarr (#1.6, 06/02/1990)
Tut Tut (#1.7, 13/02/1990)
Cedric Sackbutt's Search For A Song (#1.8, 20/02/1990)
Play It Again, Sal (#1.9, 27/02/1990)
The Pearls Of Wisdom (#1.10, 06/03/1990)



Brush Strokes
TV Series | Guest cast (1 episode)
(29.03.1990)
As: Child
Untitled episode (#4.6, 29/03/1990) ... (uncredited)



The Upper Hand
TV Series | Main cast (95 episodes)
(1990-1996)
As: Joanna Burrows
Just the Job (#1.1, 01/05/1990)
Briefless Encounter (#1.2, 08/05/1990)
Dinner for Two (#1.3, 15/05/1990)
The Old Girl Network (#1.4, 22/05/1990)
Caroline's First Fight (#1.5, 29/05/1990)
Who's Who (#1.6, 05/06/1990)
Growing Pains (#1.7, 10/07/1990)
Paint Your Wagon (#1.8, 17/07/1990)
Welcome Home (#1.9, 24/07/1990)
Welcome Home II (#1.10, 31/07/1990)
Just Like Charlie (#1.11, 07/08/1990)
First Kiss (#1.12, 14/08/1990)
Requiem (#2.0, 27/12/1990)
Common Entrance (#2.1, 18/02/1991)
When Worlds Collide (#2.2, 25/02/1991)
Wedding Bells (#2.3, 04/03/1991)
Wedding Bells II (#2.4, 11/03/1991)
Cupid's Arrows (#2.5, 18/03/1991)
The Babysitter (#2.6, 25/03/1991)
The Babysitter: Part 2 (#2.7, 08/04/1991)
Playing to Win (#2.8, 15/04/1991)
The Heiress (#2.9, 22/04/1991)
A Friend in Need (#2.10, 29/04/1991)
And the Winner Is... (#2.11, 06/05/1991)
She's My Girl (#2.12, 13/05/1991)
The Anniversary (#2.13, 20/05/1991)
Bedtime Story (#3.1, 05/11/1991)
First Date (#3.2, 12/11/1991)
Once Bitten, Twice Shy (#3.3, 19/11/1991)
Older Than Springtime (#3.4, 26/11/1991)
Neighbours (#3.5, 03/12/1991)
Old Flames (#3.6, 10/12/1991)
Wheels (#3.7, 17/12/1991)
The Honeymooners (#3.8, 07/01/1992)
The Whiz Kid (#3.9, 14/01/1992)
Family Ties (#3.10, 21/01/1992)
The Proposal (#3.11, 28/01/1992)
Business and Pleasure (#3.12, 04/02/1992)
Pillow Talk (#3.13, 11/02/1992)
Come Dancing (#4.1, 20/10/1992)
Blind Date (#4.2, 27/10/1992)
Sex, Lies and Exercise Tape (#4.3, 03/11/1992)
Summoned to the Head (#4.4, 10/11/1992)
The Girl Next Door (#4.5, 17/11/1992)
Charlie's Auntie's Uncle (#4.6, 24/11/1992)
Match of the Day (#4.7, 01/12/1992)
Surprise, Surprise (#4.8, 08/12/1992)
The Fugitive (#4.9, 15/12/1992)
You Shall Go to the Ball (#4.10, 22/12/1992)
To Let or Not to Let (#4.11, 28/12/1992)
Big Bad Burrows (#4.12, 04/01/1993)
Working Girls (#4.13, 11/01/1993)
A Model Grandmother (#4.14, 18/01/1993)
The Manageress (#4.15, 25/01/1993)
Wish You Were Here (#4.16, 01/02/1993)
A Walk on the Mild Side (#4.17, 08/02/1993)
Take Your Pick (#4.18, 15/02/1993)
Tunnel of Love (#4.19, 22/02/1993)
Not in Front of the Children (#5.1, 09/09/1993)
Misery (#5.2, 16/09/1993)
Cheers (#5.3, 23/09/1993)
Duck Soup (#5.4, 30/09/1993)
Minder (#5.5, 07/10/1993)
Wheel of Fortune (#5.6, 14/10/1993)
The Price Is Right (#5.7, 21/10/1993)
Housewife's Choice (#5.8, 28/10/1993)
Who's the Boss? (#5.9, 04/11/1993)
The Far Pavilion (#5.10, 11/11/1993)
The Porridge Diet (#5.11, 18/11/1993)
Mixed Doubles (#5.12, 25/11/1993)
Full House (#5.13, 02/12/1993)
Keep It in the Family (#5.14, 09/12/1993)
Happy Ever After?: Part 1 (#5.15, 16/12/1993)
Happy Ever After?: Part 2 (#5.16, 23/12/1993)
Moonlighting (#6.1, 06/01/1995)
Fatal Attraction (#6.2, 13/01/1995)
Granny Get Your Gun (#6.3, 20/01/1995)
Surgical Spirit (#6.4, 27/01/1995)
Father of the Bride: Part 1 (#6.5, 03/02/1995)
Father of the Bride: Part 2 (#6.6, 10/02/1995)
Married... with Parents (#6.7, 17/02/1995)
No Place Like Home (#6.8, 24/02/1995)
Hard Times (#6.9, 03/03/1995)
Hit the Road (#6.10, 10/03/1995)
Home Improvement (#6.11, 17/03/1995)
Quantum Leap (#6.12, 24/03/1995)
Second Thoughts (#6.13, 31/03/1995)
The Wedding (#6.14, 08/04/1995)
A Lion Called Laura (#7.1, 02/09/1996)
Friends (#7.2, 09/09/1996)
In Marriage We Trust (#7.3, 16/09/1996)
The Chunnel of Love (#7.4, 23/09/1996)
Nobody's Child (#7.5, 30/09/1996)
A Couple of Charlies (#7.6, 07/10/1996)
Oh Baby, Oh Baby (#7.7, 14/10/1996)



1991
Children's ITV
CiTV Broadcast | Appearance (1 broadcast)
(05.08.1991)
As: Herself


Family Fortunes
TV Game Show | Appearance (1 episode)
(27.12.1991)
As: Herself
Christmas special: Upstarts vs. Pushcarts (#11.5, 27/12/1991)



1992
Beauty and the Beast
Kids Animation Video | Main cast
(1992)
As: Beauty (voice)


1995
The Geeks
TV | Guest cast (1 episode)
(31.03.1995)
As: Herself
Our House (#1.6, 31/03/1995)



1996
Scene
TV | Guest cast (1 episode)
(09.10.1996)
As: Clare
Alison (?, 09/10/1996)



It Must Be Love
TV Special | Main cast
(26.11.1996)
As: Allie


1997
McDonald's Advert
TV Commercial | Main cast (1 advert)
(1997)
As: A Hungry Commuter


1998
The Bill
TV Series | Guest cast (1 episode)
(3.3.1998)
As: Lianne Clark
A Little Help (#14.25, 03/03/1998)



2000's
2000
Nature Boy
TV Series | Guest cast (1 episode)
(06.03.2000)
As: Katy
Untitled episode (#1.4, 06/03/2000)



Cor Blimey!
TV Film | Main cast
(24.04.2000)
As: Viola


The Thing About Vince
TV Series | Main cast (3 episodes)
(24.07.2000 - 07.08.2000)
As: Sally
Episode 1 (#1.1, 24/07/2000)
Episode 2 (#1.2, 31/07/2000)
Episode 3 (#1.3, 07/08/2000)



2002
Ali G Indahouse
Film | Main cast
(24.3.2002 (Premiere))
As: Me Julie


Bad Girls
TV Series | Main cast (13 episodes)
(21.03.2002 - 13.06.2002)
As: Cassie Tyler
Fait Accompli (#4.4, 21/03/2002)
Only the Lonely (#4.5, 28/03/2002)
Sweet Sixteen (#4.6, 04/04/2002)
Pillow Talk (#4.7, 11/04/2002)
Prison Issue (#4.8, 18/04/2002)
Baby on Board (#4.9, 25/04/2002)
Family Matters (#4.10, 02/05/2002)
Battle Lines (#4.11, 09/05/2002)
Appearances' Sake (#4.12, 16/05/2002)
True Colours (#4.13, 23/05/2002)
Hard Knock Life (#4.14, 30/05/2002)
Marriage of Inconvenience (#4.15, 06/06/2002)
Curtain Call (#4.16, 13/06/2002)



The House That Jack Built
TV Series | Main cast (6 episodes)
(2.8.2002-30.8.2002)
As: Lisa Squire
Dynasty (#1.1, 02/08/2002)
Redundant (#1.2, 09/08/2002)
Dog's Don't Wear Hard Hats (#1.3, 16/08/2002)
Kidney (#1.4, 16/08/2002)
Ben (#1.5, 23/08/2002)
The Christening (#1.6, 30/08/2002)



This Morning
TV | Appearance (1 episode)
(2002)
As: Herself
Unknown episode


National Music Awards
TV Awards | Appearance (1 episode)
(??.11.2002)
As: Herself


Silent Witness
TV Series | Guest cast (2 episodes)
(26.10.2002 - 27.10.2002)
As: DC Mona Westlake
Closed Ranks: Part 1 (#6.7, 26/10/2002)
Closed Ranks: Part 2 (#6.8, 27/10/2002)



2003
How (Not) to Make a Short Film
Short Film | Main cast
(6.11.2003)
As: Stefania


2005
Imagine Me & You
Film | Main cast
(2005)
As: Terri


Kinky Boots
Film | Main cast
(2005)
As: Jeannie


Jericho
TV Series | Main cast (4 episodes)
(23.10.2005 - 07.11.2005)
As: WPC Penny Collins
A Pair of Ragged Claws (#1.1, 16/10/2005)
The Killing of Johnny Swan (#1.2, 23/10/2005)
To Murder and Create (#1.3, 30/10/2005)
The Hollow Men (#1.4, 06/11/2005)



2006
Vital Signs
TV Series | Guest cast (1 episode)
(2006)
As: Yvonne
Untitled episode (#1.5, ?/?/2006)



2007
T. Bag The Reunion Documentary
DVD Documentary | Appearance
(17.09.2007)
As: Herself


The Catherine Tate Show
Sketch Show | Guest cast (1 episode)
(25.12.2007)
As: Kelly
Christmas Special (25/12/2007) … Paul & Sam sketch



2008
New Tricks
TV Series | Guest cast (1 episode)
(21.07.2008)
As: Sarah Nadeley
A Face For Radio (#5.3, 21/07/2008)



2009
Horne & Corden
TV Series | Main cast (5 episodes)
(10.03.09 - 14.04.2009)
As: Various
Untitled episode (#1.1, 10/03/2009)
Untitled episode (#1.2, 17/03/2009)
Untitled episode (#1.3, 24/03/2009)
Untitled episode (#1.5, 07/04/2009)
Untitled episode (#1.6, 14/04/2009)



Hotel Babylon
TV Series | Guest cast (1 episode)
(24.07.2009)
As: Meredith Sutton
Untitled episode (#4.5, 24/07/2009)



Holby City
TV Series | Guest cast (2 episodes)
(11.08.09 - 18.08.2009)
As: Joy Miller
These Arms of Mine (#11.43, 11/08/2009)
The Blind Side (#11.44, 18/08/2009)



BattleForge
Video Game | Guest cast
(?.?.2009)
As: ?


2010's
2010
Breakfast
TV | Appearance (1 episode)
(19.01.2010)
As: Herself
Episode dated 19 January 2010 (19/01/2010)



Angela and Friends
TV | Appearance (1 episode)
(19.01.2010)
As: Herself
Episode dated 19 January 2010 (#1.42, 19/01/2010)



Rock & Chips
TV | Main cast (3 episodes)
(24.01.2010 - 28.04.2011)
As: Joan Trotter
Pilot Episode (#1.1, 24/01/2010)
Five Gold Rings (#1.2, 29/12/2010)
The Frog and the Pussycat (#1.3, 28/04/2011)



Fable III
Video Game | Guest cast
(29.10.2010)
As: Hero of Brightwall - Female (voice)


Come Rain Come Shine
TV | Main cast
(20.12.2010)
As: Joanne


2011
Dragon Age II
Video Game | Main cast
(11.03.2011)
As: Various (voice)


The Comedy Genius of John Sullivan
TV | Appearance
(13.05.2011)
As: Herself


Xenoblade Chronicles
Video Game | Main cast
(19.08.2011)
As: Sharla (voice)


2012
One Night
TV | Guest cast (2 episodes)
(26.03.2012 - 27.03.2012)
As: Dawn
Ted (#1.1, 26/03/2012)
Rochelle (#1.2, 27/03/2012)



Ashes
Film | Main cast
(2012)
As: Lisa


2013
Great Night Out
TV | Guest cast (1 episode)
(15.02.2013)
As: Shona
Untitled episode (#1.6, 15/02/2013)



Casualty
TV | Guest cast (1 episode)
(15.06.2013)
As: Tina Caffola
Garage Flowers (#27.39, 15/02/2013)



Pointless Celebrities
TV Game Show | Appearance (1 episode)
(26.10.2013)
As: Herself
Record Breakers Special (#5.1, 26/10/2013)



EastEnders
TV Soap | Main cast (Ongoing episodes)
(19.12.2013 - onwards)
As: Linda Carter
Episode dated 19 December 2013 (19/12/2013)
Episode dated 26 December 2013 (26/12/2013)
Episode dated 27 December 2013 (27/12/2013)
Episode dated 30 December 2013 (30/12/2013)
Episode dated 31 December 2013 (31/12/2013)
Episode dated 1 January 2014 (01/01/2014)
... and more ongoing episodes.



2014
National Television Awards
TV Awards | Appearance (1 episode)
(22.01.2014)
As: Herself


The One Show
TV | Appearance (1 episode)
(14.03.2014)
As: Herself
Episode dated 14 March 2014 (14/03/2014)



Saturday Kitchen
TV | Appearance (1 episode)
(12.04.2014)
As: Herself
Episode dated 12 April 2014 (12/04/2014)



Masterchef
TV | Appearance (1 episode)
(07.05.2014)
As: Herself
Untitled episode (#5.19, 07/05/2014)



Vera
TV Series | Guest cast (1 episode)
(11.05.2014)
As: Vanessa Barnes
The Deer Hunters (#4.3, 11/05/2014)



The British Soap Awards 2014
TV Awards | Appearance (1 episode)
(25.05.2014)
As: Herself


Children In Need
TV | Appearance (1 episode)
(14.11.2014)
As: Linda Carter
Children In Need 2014 (14/11/2014)



2015
National Television Awards
TV Awards | Appearance (1 episode)
(21.01.2015)
As: Herself


The Graham Norton Show
TV | Appearance (1 episode)
(16.02.2015)
As: Herself
EastEnders's 30 Birthday Special (#16.20, 16/02/2015)



The One Show
TV | Appearance (1 episode)
(19.02.2015)
As: Herself
Episode dated 19 February 2015 (19/02/2015)



EastEnders: Backstage Live
TV | Appearance (1 episode)
(20.02.2015)
As: Herself


The Paul O'Grady Show
TV | Appearance (1 episode)
(06.05.2015)
As: Herself
Episode dated 6 May 2015 (#14.13, 16/05/2015)



The British Soap Awards 2015
TV Awards | Appearance (1 episode)
(21.05.2015)
As: Herself


Strictly Come Dancing
TV | Appearance (27 episodes)
(05.09.2015 - 19.12.2015)
As: Herself
Launch Show (#13.1, 05/09/2015)
Week One: Show One (#13.2, 25/09/2015)
Week One: Show Two (#13.3, 26/09/2015)
Week Two (#13.4, 03/10/2015)
Week Two Results (#13.5, 04/10/2015)
Week Three: Movie Special (#13.6, 10/10/2015)
Week Three Results (#13.7, 11/10/2015)
Week Four (#13.8, 17/10/2015)
Week Four Results (#13.9, 18/10/2015)
Week Five (#13.10, 24/10/2015)
Week Five Results (#13.11, 25/10/2015)
Week Six: Halloween Special (#13.12, 31/10/2015)
Week Six Results (#13.13, 01/11/2015)
Week Seven (#13.14, 07/11/2015)
Week Seven Results (#13.15, 08/11/2015)
Week Eight (#13.16, 14/11/2015)
Week Eight Results (#13.17, 15/11/2015)
Week Nine: Blackpool Special (#13.18, 21/11/2015)
Week Nine Results (#13.19, 22/11/2015)
Week Ten (#13.20, 28/11/2015)
Week Ten Results (#13.21, 29/11/2015)
The Quarter Final: Musicals Special (#13.22, 05/12/2015)
The Quarter Final Results (#13.23, 06/12/2015)
The Semi Final (#13.24, 12/12/2015)
The Semi Final Results (#13.25, 13/12/2015)
The Grand Final: Show One (#13.26, 19/12/2015)
The Grand Final: Show Two (#13.27, 19/12/2015)



Celebrity Juice
TV | Appearance (1 episode)
(10.09.2015)
As: Herself


Strictly Come Dancing: It Takes Two
TV | Appearance (16 episodes)
(30.09.2015 - 18.12.2015)
As: Herself
Episode #12.3 (#12.3, 30/09/2015)
Episode #12.10 (#12.10, 09/10/2015)
Episode #12.15 (#12.15, 16/10/2015)
Episode #12.17 (#12.17, 20/10/2015)
Episode #12.22 (#12.22, 27/10/2015)
Episode #12.25 (#12.25, 30/10/2015)
Episode #12.30 (#12.30, 06/11/2015)
Episode #12.32 (#12.32, 10/11/2015)
Episode #12.37 (#12.37, 17/11/2015)
Episode #12.40 (#12.40, 20/11/2015)
Episode #12.42 (#12.42, 24/11/2015)
Episode #12.45 (#12.45, 27/11/2015)
Episode #12.47 (#12.47, 01/12/2015)
Episode #12.55 (#12.55, 11/12/2015)
Episode #12.58 (#12.58, 16/12/2015)
Episode #12.60 (#12.60, 18/12/2015)



Sunday Brunch
TV | Appearance (1 episode)
(15.11.2015)
As: Herself
Episode dated 15 November 2015 (#4.40, 15/11/2015)



Alan Carr: Chatty Man
TV | Appearance (1 episode)
(27.11.2015)
As: Herself
Episode dated 27 November 2015 (27/11/2015)



2016
National Television Awards
TV Awards | Appearance (1 episode)
(20.01.2016)
As: Herself


The One Show
TV | Appearance (1 episode)
(17.05.2016)
As: Herself
Episode dated 17 May 2016 (17/05/2016)



The British Soap Awards 2016
TV Awards | Appearance (1 episode)
(29.05.2016)
As: Herself


2018
Sunday Brunch
TV | Appearance (1 episode)
(30.12.2018)
As: Herself
Episode dated 30 December 2018 (#7.46, 30/12/2018)



2019
Strictly Come Dancing
TV | Appearance (1 episode)
(14.09.2019)
As: Herself
Strictly: The Professionals (14/09/2019)



2020
This Morning
TV | Appearance (1 episode)
(06.02.2020)
As: Herself
Episode dated 6 February 2020 (06/02/2020)



Unknown Dates
Knock your Block Off
TV Commercial | Main cast (1 advert)
(Before 1989)
As: Sister


McCain's Chips Commercial
TV Commercial | Main cast (1 advert)
(?)
As: Girl